An Introduction to "5 FMEA Challenges and How to Overcome Them"
FMEAs consistently remain one of the most used tools for failure and risk assessment; however, the way they are done also consistently remains the most variable. Because FMEAs are more fluid in implementation and structure than other failure risk assessment tools and methodologies, they pose unique challenges in practice. Our white paper explores some of the most common challenges and suggestions for meeting those challenges to get the most out of your FMEA efforts.
In this excerpt from our "5 FMEA Challenges and How to Overcome Them" white paper, we'll review one of the challenges discussed: Creating an Organized and Clear FMEA Document.
FMEA Challenge #3: Creating An Organized and Clear FMEA Document
While it is tempting to quickly get a FMEA completed, it is important to take some time to consider that the end result should be something that is easy to read and update. Too often, we see FMEA Worksheets that are inconsistent and disorganized. Trying to update these documents can be frustrating. Sometimes, even going back just to review your past work is problematic if the data is not organized. There are two key components to create clear and organized FMEA documents.
1. Use Phrase Sets in FMEA Worksheets
First, use phrase sets. Phrase sets are words, terms, or groups of words that are reused. Because FMEAs are collaborative documents and can be performed between teams in various locations, terminology consensus is very helpful. This can range from the simple agreement to always use "No effect" versus "None" when filling out the FMEA Worksheet, to agreement on complex sentences for reuse when entering recommended actions. The resulting FMEA Worksheet is then easily readable by all team members and can be easily searched for common terms.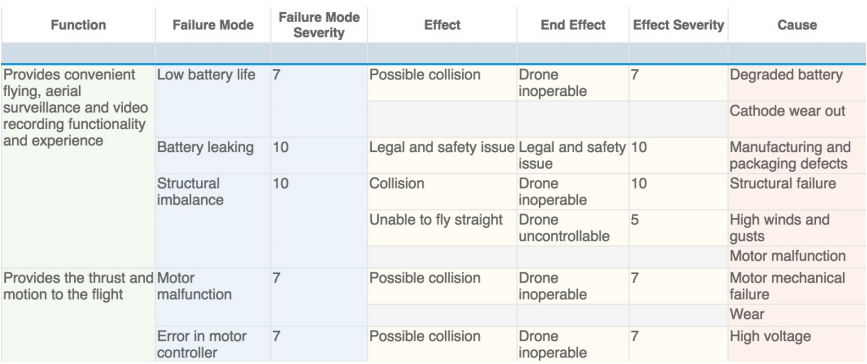 2. Agree on a FMEA Worksheet Template
Second, the team should agree on a template for all FMEA Worksheets. FMEA Worksheets are customizable, which is an advantage, but can also be problematic if it leads to disorganized FMEAs across your organization. Agreement on the layout and data to capture makes the FMEA task streamlined and keeps everyone on the team on the same page. Plan a team meeting to come to a consensus for your team.
Software FMEA tools can be beneficial in providing these useful features and in helping to create organized, structured FMEA Worksheets.
View the Remaining 5 FMEA Challenges and How to Overcome Them
The 5 FMEA Challenges and How to Overcome Them white paper covers the following topics:
FMEA: Failure Mode and Effect Analysis – an overview
The Variability of FMEAs in Practice
The FMEA Challenges

Challenge #1: Communicating the Importance of FMEA
Challenge #2: Assembling an Effective Team
Challenge #3: Creating an Organized and Clear FMEA Document
Challenge #4: Creating a Useful FMEA Document, including questions to answer for optimizing your FMEA
Challenge #5: Ensuring You Don't Repeat Past Mistakes
Download the full white paper here. If you are interested in learning more about Relyence FMEA software, contact us or start your own free trial today!