Managing all your reliability & quality activities in one impressive, integrated platform

Try for free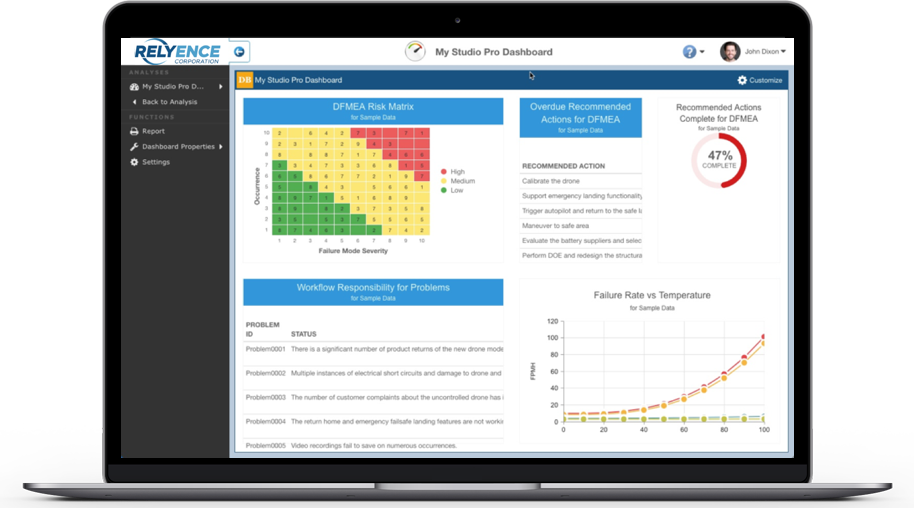 FMEA • FRACAS • Fault Tree • Reliability Prediction • RBD • RCM
•
Maintainability Prediction • Weibull • ALT
Learn how Relyence Studio is the winning platform for reliability and quality analysis

Check out some of our informative white papers!

Relyence Studio is your complete reliability analysis platform
Relyence Studio: The Integrated Platform
Relyence Studio incorporates all of the Relyence products…
and integrates data across all modules.
Tie it all together with unparalleled integration capabilities
Check out our blog for our latest news!
Subscribe to our eNewsletter
We won't bombard you with emails! Our eNewsletter is timely and informative. And gets great reviews!
"Your Advisor is well written—simple (appealing since not cluttered), concise (efficient), and most importantly, technically informative (effective). Thank you!"
Tim A., Reliability-Risk Engineer
Relyence Advisor: Tools & Tips for the Reliability and Quality Professional
Note: You can unsubscribe at any time.
Why wait? Get your no-hassle free trial today!
You can jump right into a completely free, no-hassle trial of Relyence Studio today! Requiring no installation or download, you're a click away from taking Relyence's power-packed software suite for a test run. The Relyence Studio free trial includes all Relyence products and all available features and functions. We supply easy-to-follow, step-by-step Getting Started Guides for a quick overview. Or, you are more than welcome contact us today or schedule a personal demo.