The return of summer means another new release from Relyence! Relyence 2022 Release 2 is now available and introduces a host of new and upgraded features to the already powerful Relyence Studio reliability suite. As always, our goal is to seamlessly integrate these new additions into our intuitive, well-crafted reliability platform. Once again, we do not compromise on our promise to provide you with a flexible and fully customizable reliability tool suite to ensure that you can tailor the Relyence products to your specific needs.
New Capabilities in the Relyence Knowledge Bank
One of the standout features of Relyence FMEA and Reliability Prediction is the Knowledge Bank. The Knowledge Bank provides you with a centralized database to store your analysis information for easy reference and reuse. Additionally, the Knowledge Bank ensures that your data is kept consistent and synchronized across your analyses. The Knowledge Bank supports the ability to utilize core, master, or Foundation FMEAs that can be referenced across your failure mode and effects analyses. It is often cited as the number one reason Relyence FMEA is the tool of choice over Excel or other similar spreadsheet-based software.
Relyence 2022 Release 2 introduces new features to further expand on the power of Knowledge Banks.
Pull Changes Capability
The Relyence Knowledge Bank has long supported a Push feature. If you make changes to your Knowledge Bank – your central repository for shared Analysis data – the Push capability allows you to automatically update your associated Analyses with the newly updated information.
Relyence 2022 Release 2 now offers a Pull feature to complement the Push feature. The Pull feature allows you to update your Knowledge Banks with newly updated data from your FMEAs. The combination of the Pull and Push features provides bidirectional data updates to and from your Knowledge Banks.
From within your Knowledge Bank, you can review data from your FMEAs and choose which modifications should be incorporated. With the Pull Changes ability, Relyence extends its already strong support for Foundation FMEAs by providing an easy-to-use way to send information back to the Foundation FMEA from a FMEA Worksheet.
Pull Changes Example
For example, assume you have a stored GPS assembly with its associated FMEA data in your Knowledge Bank. This GPS is used in multiple Analyses across Relyence, including your current product, a quadcopter drone, and also in the Analysis for a planned next generation product – an octocopter drone. During failure mode and effects analysis of the octocopter drone, you uncover an additional Failure Mode associated with the GPS that you add to the octocopter drone's FMEA Worksheet. You need to consider if that failure mode should be added to the baseline GPS assembly in your Knowledge Bank.
From within your Knowledge Bank, this new Failure Mode can be seen by clicking Bank > Pull Changes. From the Pull Changes dialog, the new failure information can be reviewed and automatically added to the appropriate location in the Knowledge Bank. In this way, Pull Changes ensures the master copy of the GPS that exists in the Knowledge Bank is kept up-to-date with newly discovered failure information. Additionally, if desired, you can then utilize the Push feature in the Knowledge Bank to synchronize this new Failure Mode with all other copies of the GPS.
From the Pull Changes dialog, you can also choose to ignore any changes that are not appropriate for inclusion in the shared data of the Knowledge Bank. For example, changes could be ignored when they apply only to specific products and not to the master copy of the GPS in the Knowledge Bank.
Knowledge Bank Access Control
Relyence 2022 Release 2 introduces an Access Control feature to Knowledge Banks. This new capability allows you to restrict the Knowledge Bank data available for inclusion in your FMEAs. The ensures that as you are performing your analyses, you only see data which applies to the specific product you are working on.
For example, let's assume you are analyzing an appliance manufacturing plant that produces 2 individual product lines – washers and dryers. Under each product line, there are multiple individual products that will each be examined in their own individual Analysis in Relyence. For this case, you would create 3 Knowledge Banks:
Appliance Knowledge Bank that contains common information for all Washer and Dryer products
Washer Knowledge Bank that contains common information for all Washer products
Dryer Knowledge Bank that contains common information for all Dryer products
Using the Knowledge Bank Access Control feature, you then limit the product line Knowledge Banks to only use data from the appropriate manufacturing location Knowledge Bank. Then each individual product's FMEA is restricted to using its associated product line Knowledge Bank.
By limiting access to only the appropriate information, Knowledge Bank Access Control ensures you are only viewing information that applies to your specific FMEA.
Enhancements to Relyence FMEA
Relyence FMEA quickly gained acceptance as one of the most powerful and flexible tools to perform FMEA. Impressive and unique features such as the Knowledge Bank, Data AutoflowTM, SmartSuggestTM, and Failure Direct ConnectTM combined with a well-crafted design and interface make Relyence FMEA the best-in-class tool for failure mode and effects analysis, especially over Excel-based or other FMEA software tools. Relyence 2022 Release 2 includes a number of new enhancements to further cement Relyence FMEA's best-in-class status.
Full Process Flow Symbol Customization
Relyence PFMEA comes with built-in support for the most commonly used Diagram symbols for Process Flow Tables and Diagrams. Now in Relyence 2022 Release 2, you can fully customize these symbols to your needs. You can modify Symbol Names, replace them, or even upload your own entirely customized set of Process Flow Symbols.
To customize your Process Flow Symbols, click Configure > FMEA > Process Flow Symbols from the Sidebar in Relyence FMEA. Then from the Customize Process Flow Symbols dialog, make any changes that you need. Your custom symbols will then be available on the Process Flow Table, Process Flow Diagram, and on your Relyence reports.
Severity, Occurrence, Detection (SOD) Colors and Default Revised Value
Relyence 2022 Release 2 introduces the ability to define colors for each ranking of Severity, Occurrence, and Detection. These colors will then appear on your FMEA Worksheet and reports and provide you with a useful visual indicator of the most critical FMEA line items. Colors can be customized by accessing the Risk Criteria dialog by clicking Configure > FMEA > Risk Criteria from the Sidebar menu.
Additionally, there is now an option on the Risk Criteria dialog to automatically use the Severity, Occurrence, or Detection value as the default value in the associated Revised field. For example, you can use this option to automatically set the value of the Revised Severity field equal to Severity. This feature has two uses. First, you can use this option to set an initial default value for your Revised SOD data fields, which can then be modified as needed. Or, you may want to use this option and also set your Revised SOD fields to be read-only. In this case, you can force Revised Severity to always be the same as Severity, for example.
SmartSuggest Enhancements
Relyence FMEA SmartSuggest offers a unique approach for keeping your FMEA data synchronized throughout your Analysis Tree hierarchy. As the name implies, FMEA SmartSuggest provides suggested FMEA data that should be considered for inclusion in your FMEA Worksheet. By analyzing your FMEA Worksheets that are completed across the various levels of your FMEA tree hierarchy, FMEA SmartSuggest develops a list of recommended failure data to include on your current Worksheet – then you can choose to include those that are most appropriate for your analysis.
Now in Relyence 2022 Release 2, SmartSuggest has been extended to connect the appropriate Severity values with their associated data. This happens in two places:
When a Failure Mode is connected to a Cause at a higher-level, the connected Failure Mode will have its Severity automatically set to the Cause's associated Failure Mode Severity.
When an Effect is connected to a Failure Mode at a higher-level, the connected Effect will have its Severity automatically set to the maximum Severity value from the higher-level Failure Mode and its associated Effects.
Additionally, SmartSuggest has been expanded to handle shared Recommended Actions. When Actions are shared between Cause records, you can now use the FMEA SmartSuggest Show Suggestions panel to bring up a list of all your Recommended Actions. Inserting or Connecting to an existing Recommended Action will then automatically populate all data associated with Recommended Actions, such as Responsibility and Target Completion Date.
You are not required to utilize shared Recommended Action data. If Recommended Actions are not shared, you can simply enter data in the Recommended Action fields.
New in Relyence FRACAS
Subtable Workflow in Relyence FRACAS
In Relyence FRACAS, Subtables enable you to put a small table of data on your Forms to capture a list of information. Subtables can be used for any purpose, such as documenting team members who attended a meeting, a list of root cause investigation or corrective action steps taken, a list of parts replaced, or any other type of data you want to enter on a FRACAS Incident or Problem.
Relyence 2022 Release 2 adds the powerful Workflow and Approval features to Subtables in Relyence FRACAS. This allows you to set up and track through a Workflow process that should be followed for each item recorded in a Subtable, such as corrective actions. For example, Subtable Workflow could be used during the individual steps of the 8D/DMAIC/PDCA FRACAS Problem process that require multiple actions. Example usage in the 8D Process could be:
In step D4, use Subtable Workflow to investigate multiple potential Root Causes
In steps D5 and D6, use Subtable Workflow to examine the impact of multiple Corrective Actions
To set up Subtable Workflow, select Configure > Workflow > Steps from the Sidebar in Relyence FRACAS. Then from the Workflow Steps dialog, select the appropriate tab with your Subtable Name and define your Workflow Steps and Approvals.  
Escalate FRACAS Incidents to a Problem
Relyence FRACAS introduces the new Escalate capability which automatically creates a Problem and associates it with your chosen Incident or Incidents. Oftentimes in the FRACAS process, it becomes apparent that a group of Incidents, or a single significant Incident, must be elevated to the Problem level in order to complete a full 8D or similar process for resolution.
From the toolbar in Relyence FRACAS, you can use Escalate to create a Problem from either the FRACAS Incident Table or Incident Form. You can choose one Incident or multiple Incidents that should be associated with the newly created Problem. Once the Problem creation is complete, you can use the link to immediately navigate to the newly created Problem or click Close to return to FRACAS Incidents.
New Relyence RBD Capabilities
Relyence RBD offers a powerful system modeling tool with our smart layout capability for creating impressive and organized graphical models coupled with the high-powered back-end computation engine. In Relyence 2022 Release 2, Relyence RBD continues to improve with expanded calculation options.
Cold Standby Redundancy on Branches
Cold Standby redundancy is defined as a configuration that contains a number of components in a k-out-of-n redundant configuration where the backup component is inactive until the main, or Primary, unit fails. For this reason, the backup units in a Cold Standby configuration will not fail during normal operation because they are not active. If failures occur in the Primary unit, the backup unit is activated so that the system remains operational.
Relyence 2022 Release 2 introduces the ability to calculate Cold Standby configurations that contain Branching structures. This allows the ability to model complex systems that contain structures with multiple components in a Cold Standby configuration.
An example of a system containing a complex Cold Standby configuration is a complex data center. To ensure system downtime is minimized, you have cold standby backup units for some equipment racks. Each rack could contain a number of individual components including storage drives, switches, power units, network infrastructure devices and more. With the capability to model Branching structures in a Cold Standby configuration, Relyence RBD allows each rack component to be individually modeled with its own Block, then the entire backup structure to be configured in Cold Standby to the Primary unit.
To create a Cold Standby RBD using Branches, simply choose the appropriate Branch Junction and set the Redundancy Type to Cold Standby from the Properties pane. With Branching structures in Cold Standby, Relyence treats the top-most Branches as the Primary units. You can use the Branch Up and Branch Down options in the top toolbar to properly establish your Primary and backup unit(s) configuration.
Repeat Blocks
Repeat Blocks in RBD allow you to use the same system component in multiple locations in a diagram. Compared to Subdiagram blocks, where an identical copy of each Subdiagram is created and used in calculations, Repeat blocks are not copies of each other. Rather, they are the identical component modeled in multiple locations.
An example use-case for Repeat blocks could be if you are using Relyence RBD to model the reliability of an entire factory that manufactures multiple different products. During manufacture, each of these products likely goes through machinery. However, because they are manufactured at the same location, they may share machinery at a point in each of their manufacturing processes. In this example, let's say that they all must go through the same high-temperature, high-pressure baking process in a shared oven. And because all product lines are dependent on this oven, its failure will result in a shutdown of each line. Repeat blocks in RBD would allow you to model the oven in the correct step of each manufacturing line. Additionally, because they are identical copies, the Repeat blocks share the same failure behavior – that is, the failure of a Repeat block is reflected across all locations in your diagram.
To create a Repeat Block in Relyence RBD, select Insert > Repeat from the top toolbar, then choose the correct block to be repeated in your RBD. With Relyence 2022 Release 2, Relyence RBD now has to ability to model Repeat single and redundant Blocks within a diagram as well as those linked to Subdiagrams.
Additional New Features in Relyence 2022 Release 2
Analysis Tree Revisions
In Relyence, Analysis Revisions allow you to save versions of your Analyses for archiving purposes. Revisions are always marked as read-only so that no modifications can be made to them. You can recreate an Analysis from a Revision, open a Revision for viewing, and include data from a Revision in Dashboards.
In addition to creating Revisions based on full Analyses, Relyence 2022 Release 2 introduces the ability to create Revisions of Analysis Tree items. This allows you to easily create and save versions of Analysis Tree items for future reference and easy retrieval if required.
To create an Analysis Tree Revision, navigate to the Analysis Tree Properties page for the appropriate subsystem in Relyence FMEA, Reliability Prediction, or Maintainability Prediction. Then from the top toolbar, select Revisions > Create to create a Revision of your currently selected Analysis Tree item. 
The Manage option from the Revisions toolbar button allows you see Search, Open, Delete, or Create Analysis Tree Revisions. You can also choose to Restore the Revision to bring the Analysis Tree item back into your current Analysis.
Dashboard Improvements
Relyence 2022 Release 2 introduces several improvements to the Relyence widgets to make your high-level data viewing even better than ever! These include:
Improved Grouping and Date Filtering on Incident Pareto and Problem Pareto charts
Enhanced Drilldown support for several widgets including, Open and Closed Incidents per Month, Open and Closed Problems per Month, Total Incidents per Month, Total Problems per Month, Incidents per Step and Problems Per Step
Customizing of display fields on several widgets, including Selected Incidents, Selected Problems, Overdue Incidents, Overdue Problems, Workflow Responsibility for Incidents, Workflow Responsibility for Problems, Overdue Recommended Actions for DFMEA/PFMEA/FMEA-MSR and RPN Over Threshold for DFMEA/PFMEA
And more!
In addition to all the new features and enhancements listed above, Relyence 2022 Release 2 also includes several other improvements designed to further expand on our best-in-class software package. Many of these have come from you – our customers! We are sincerely appreciative of your feedback and look forward to implementing the helpful ideas you suggest. So, thank you and keep them coming!
Some of these new capabilities include:
The ability to merge duplicate cells on FMEA Imports
Improved image reporting
The option to enforce unique Gate and Event name in Fault Tree
Additional scaling options on Weibull plots
Email Notifications can be sent to Groups
Along with everything listed above, you will also find even more additional enhancements in Relyence 2022 Release 2!
Free Trial of Relyence Reliability Software
If you are a customer of the Relyence Cloud-Based solution, you will see all these exciting new capabilities now! Or, if you are a customer of the Relyence On-Premise solution, you will have access to these new features as soon as you upgrade your installation.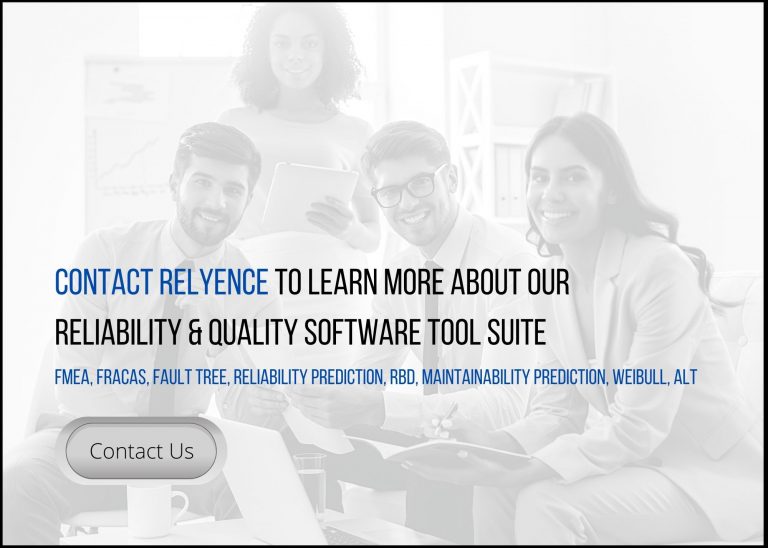 If you are current Relyence customer, a soon-to-be customer, or a future customer, please feel free to reach out with your comments. Your valuable feedback helps us to continue achieving our goal of creating the best overall reliability tool software package.
To check out these new features, or any of the capabilities of the Relyence software tool suite, you can sign up for completely free trial. No hassle, no strings, just register here and put us to the test! Or call today to speak to us about your requirements. Or schedule a personal demo at your convenience.