The most complete and powerful software package for Failure Mode & Effects Analysis available for today's workplace

Try for free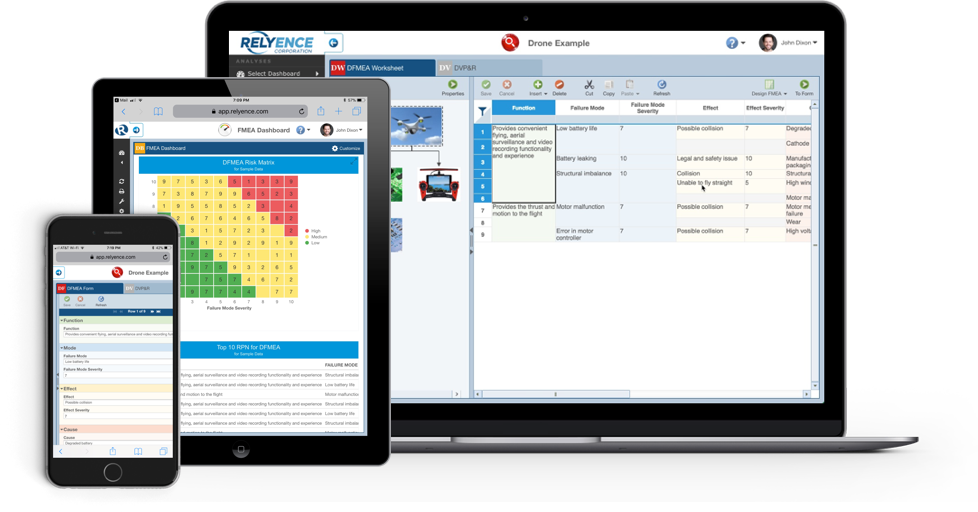 Relyence FMEA Software Overview
You can rely on Relyence FMEA
Relyence FMEA: The Standard for Excellence
Discover the Benefits of Relyence FMEA
Learn More about FMEA Best Practices
Spotlight on FMEA and FMECA
Discover the unparalleled features that make Relyence the choice platform for FMEA software and FMECA software analysis.
Relyence FMEA Supports All FMEA Types
For an overview of FMEA types and their usage, read our informative blog post.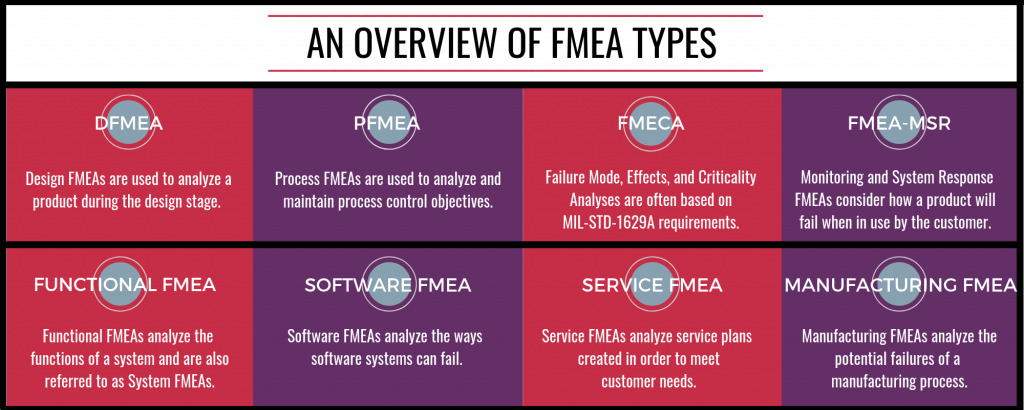 FMEA Software – What & Why
Answering the key questions about FMEA software tools

FMEA, or Failure Mode and Effects Analysis, and is an organized, systematic approach for performing failure analysis on your product, system, or process. FMEAs are consistently one of the most commonly used analysis techniques in the reliability and quality engineer's toolbox.
When performing a Failure Mode and Effects Analysis, analysts consider all possible or potential failure modes; evaluate their associated risk factors based on their level of severity; and then determine ways to prevent, mitigate, or detect those failures deemed most critical. Recommended action plans are then developed and implemented in order to address those failures.
FMEAs are often performed collaboratively with a team of engineers from all product departments. They offer a widely accepted approach for risk assessment and are invaluable for maintaining and continuously improving your quality objectives.
How much would your business be impacted if your product or service fails? To put it another way, how much would it be worth to you to have a tool that helps you to avoid failures before they occur? The answer could very well be that it's priceless to avoid catastrophic failures that could lead to irreparable damage.
Fortunately, there are analytical software tools available to help you detect, prevent, and mitigate failures of your products, services, and processes. As those associated with ensuring compliance, quality control, or reliability engineering can attest to, failure mode and effects analyses (FMEA) software is a well-known, widely accepted, and beneficial tool for failure and risk assessment. As one of the most popular tools in quality programs, FMEA actually has its roots in the U.S. military's push to predict and eliminate risks — often associated with quality management improvements for NASA that date back to the 1960s.
Of course, the advent of computers has resulted in great strides in the ability to perform risk evaluation. With increased computing power has come FMEA software that greatly enhances both the effectiveness and accuracy of early failure detection and mitigation.
There are also a multitude of benefits of using FMEA software instead of Excel-based templates. While the Excel approach may suffice for a short period of time for a very small analysis, the limitations of using Excel for FMEA quickly become apparent. Read more about the advantages of FMEA software tools over Excel here and discover why choosing a FMEA tool offer unmatched effectiveness, consistency, and efficiency.
For the best results when using software for failure mode effects and criticality analyses, selecting an all-in-one package like Relyence FMEA is the recommended choice of professionals. Supporting all types of failure mode analyses — Design FMEAs (DFMEAs), Process FMEAs (PFMEAs), piece-part FMECAs, FMEA-MSRs, Boundary Diagrams, P-Diagrams, Process Flow Diagrams (PFDs), Control Plans (PCPs), DVP&R, and even custom analyses — Relyence is your one-stop partner for all your FMEA software needs. Additionally, Relyence provides compliance for all the most widely accepted FMEA standards: SAE J1739 and ARP5580, AIAG & VDA (including the use of Foundation FMEAs), and MIL-STD-1629A; and also includes the FMD-2016 failure mode distributions database.
Today's quality control managers and reliability engineers know that when employing FMEA practices, their choice of software is a critical decision. If the FMEA software tool is too basic, the resulting FMEAs are inconsistent, unmanageable, and slow to perform. If the tool is too complex to use, the FMEA process bogs the team down and results in frustration and poor quality FMEAs.
Including innovative features like the Knowledge Bank for data reuse and synchronization with a foundation FMEA, always-in-sync technology, FMEA Data Autoflow, SmartSuggest, and Failure Direct Connect wrapped in an intuitive interface, FMEA efficiency and automation is maximized. The Relyence advantage eliminates the manual, poorly controlled days of FMEAs and provides a powerful and well-managed approach for complete FMEA process control. For these reasons and more, Relyence is the tool of choice for FMEA practitioners.
Relyence FMEA has become the go-to standard for Failure Mode & Effects Analysis due to its best-in-class performance across many varied fronts.
First, Relyence FMEA delivers on technical excellence time and time again. While Relyence FMEA supports all FMEA types from Design FMEAs, Process FMEAs, FMECAs, FMEA-MSRs, to any custom-designed FMEAs, it also offers a framework of unrivaled functionality and performance. Known for bringing a whole new level of innovation to FMEAs, Relyence has introduced Knowledge Banks to handle data synchronization from a master or foundation FMEA, multi-level FMEA Workflow and Approvals, always-in-sync functionality, FMEA Data Autoflow, SmartSuggest, cross-module integration, FMEA-Fault Tree linkage, and Failure Direct Connect. Our feature list is unparalleled and offers you the most efficient, collaborative FMEA software tool on the market.
Secondly, Relyence FMEA is also browser-based and accessible. You can choose from on-premise, private cloud, or Relyence cloud-based installation. With it's mobile-friendly and device independent capabilities, Relyence FMEA has been designed to ensure you have the flexibility you need.
Finally, and importantly, Relyence is best-in-class in service and support. We are committed to our customers. We deliver results: we listen to customer ideas and suggestions, we continually innovate, and we answer emails and calls with speed and accuracy. It's why we've become the name so many organizations trust for their FMEA needs.
See how Relyence FMEA is right for you. Start your free trial today!
Check out our blog for more information on FMEAs, Relyence FMEA software, or other reliability & quality topics.
Subscribe to our eNewsletter
We won't bombard you with emails! Our eNewsletter is timely and informative. And gets great reviews!
"Your Advisor is well written—simple (appealing since not cluttered), concise (efficient), and most importantly, technically informative (effective). Thank you!"
Tim A., Reliability-Risk Engineer
Relyence Advisor: Tools & Tips for the Reliability and Quality Professional
Note: You can unsubscribe at any time.
Why wait? Start your no-hassle free trial today!
Now is the time to give Relyence's FMEA software free trial a test run! Our no-hassle free trial means no downloads and no installations – all you need is a browser on any device of your choosing! The FMEA Getting Started Guide provides a quick overview of the basics of our stand-out FMEA software. From there, you can delve into the deep bench of features available in Relyence FMEA. Get the FMEA tool designed to exceed your expectations of what a FMEA software tool can be!
If you prefer, you can contact us at 724.832.1900 for a personal demo, or schedule a date at your convenience.