It's hard to imagine a new year that has come with as much relief and hope as 2021. We are all ready to turn the page on 2020 and look forward to better days ahead. Our wish for all of you is a healthy and safe 2021, along with the long-awaited return to some sense of normalcy.
We are proud of our ongoing product development efforts amid all the upheaval of 2020. We strive to maintain our focus on our primary objective for our reliability software platform: keeping Relyence the best-in-class solution across the board. With our latest release for the new year, that effort has been two-fold. First, we want to continually move our application ahead by introducing new and innovative features to make you more productive than ever before. Also, we want to make sure we implement suggestions from you that help make your job easier. Our Relyence 2021 Release 1 has accomplished both of these objectives!
Introducing FMEA Data Autoflow
Relyence FMEA continues to advance in features and functionality. This outstanding Relyence product has been swiftly outpacing all the other commonly used methods for performing DFMEAs, PFMEAs, and FMECAs, including Excel and table-based applications. If you are still using Excel-based software to perform FMEAs, it is time to consider moving forward to the Relyence platform. The advantages of using Relyence FMEA over Excel or any other less capable tool are numerous. A move to Relyence FMEA software will pay off quickly in terms of time savings and FMEA efficiency.
Relyence 2021 introduces yet another huge advantage to Relyence FMEA: FMEA Data AutoflowTM. In brief terms, Relyence FMEA Data Autoflow enables you to establish and manage relationships between your FMEA data using an automated approach.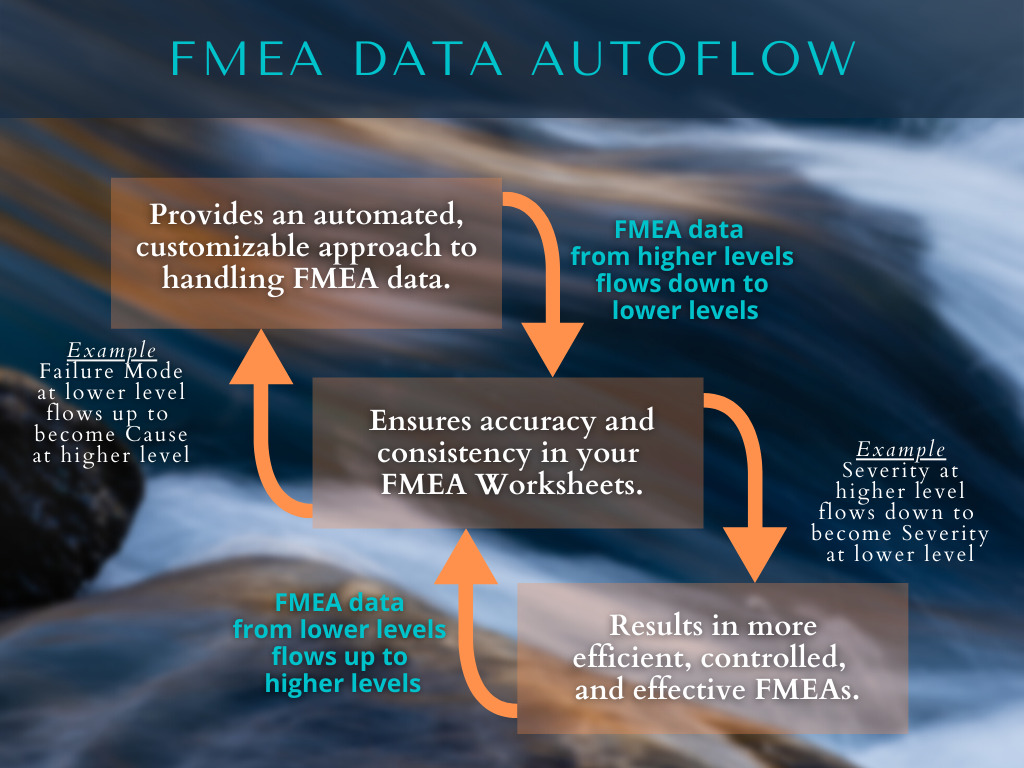 FMEA Autoflow Example
The easiest way to explain the Autoflow concept is by example. On a FMECA Worksheet there are typically three levels of Effects: Local Effect, Next Effect, and End Effect. For each line item in your FMECA Worksheet you enter the effect of the failure on the specific item – the Local Effect. You also enter the effect of this failure on the next level up in your system – the Next Effect. Then, you enter the resulting effect at the top-level of the system – the End Effect. As an example, consider a furnace that has a circuit board which controls heating and cooling. At the lowest level, a capacitor is shorted. The local effect is that the capacitor burns. The next level effect is that the circuit board stops working and cannot produce an output signal to turn on the furnace. The end effect is that the furnace produces no heat.
FMEA Autoflow Down and Autoflow Up
When performing the FMECA for this furnace, it would be beneficial if the Next Effect and End Effect could be entered in the FMECA Worksheet in an automated way. For example, if I enter in "No heat" at the very top system level as the Local Effect, the End Effect of "No heat" at the capacitor level would be entered for me. If I have set up my FMECA in a hierarchical fashion, my FMEA software should be able to determine this data relationship and fill in the Worksheet accordingly. This is exactly what FMEA Data Autoflow is designed to do!
This is just one very basic example of flowing FMEA data down from a parent subsystem to child subsystems – which is handled by Relyence FMEA's Autoflow Down capability. There are also situations where flowing data up from child to parent subsystems is beneficial. For example, perhaps when you enter in a Failure Mode you want it to be added as a Cause at the higher level. This is exactly what FMEA Data Autoflow Up is designed to handle.
As you can imagine, there are a variety of ways analysts may want to have FMEA data flow up and down Worksheets in an automated way. The connections between FMEA data are dependent not only on what type of FMEA you employ, but also your specific case and organization. For this reason, Relyence FMEA Data Autoflow is completely customizable. The FMEA Data Autoflow Designer allows you to create any number of rules for data flow. You can optionally activate and deactivate your data Autoflows as needed.
Relyence FMEA Data Autoflow includes a number of predefined Autoflow rules you can select from. These built-in rules are the most commonly used data flows. You can also start with any of the predefined rules and modify them to suit your needs.
For flexibility, FMEA Data Autoflow Up and Down are performed independently. The Autoflow Down and Autoflow Up commands enable you to engage the Autoflow engines. Autoflow Up includes an intuitive interface that allows you full management and control of the Autoflow Up function. This enables you to decide if and where to add the appropriate data and ensures FMEA clarity and accuracy.
FMEA Detection Values Associated with Detection Controls
Design FMEA (DFMEA) and Process FMEA (PFMEA) Worksheets typically include a column to define the Detection Control. The Detection Control describes how the failure mode or cause for the FMEA line item is identified in order to recognize the failure. For example, you may add a visual light indicator which turns on if an overheating condition occurs. This allows the customer to turn off the heat source before a fire or other catastrophic failure occurs. In this example you can see how detection controls do not prevent failures but rather aid in the detection of a potential failure prior to its occurrence. Detection controls play a vital role in maintaining system reliability and safety goals.
In Relyence, you can define a set of Detection Controls for your FMEA. In this way, analysts can select from a list of predefined Detection Controls which are commonly used in your design or process. Now in Relyence 2021 Release 1 you can also assign a Detection value associated with each Detection Control. The Detection value is then automatically retrieved when a Detection Control is selected from the list. If you are computing RPN (Risk Priority Number) or AP (Action Priority) for risk assessment, the retrieved Detection value is used for these computations.
This new association between Detection Controls and Detection values provides for more well-managed FMEAs. Using this new capability along with permission-based access to the Detection Control table enables you to reliably maintain FMEA consistency.
PFMEA-DFMEA Integration with Product Characteristics
A Product Characteristic is a specific element of focus in Failure Mode and Effects Analysis. Product Characteristics represent identifiable features or traits of an element under analysis – for example, weight, hardness, and composition. The list of characteristics depends on your product and how its functional design requirements have been defined.
Some Product Characteristics are more significant than others in terms of reliability, quality, and safety. For this reason, it is important to identify those most critical. There are several ways to describe Product Characteristics when performing FMEAs and you can use whatever best suits your team and organizational requirements. Oftentimes, analysts will define key, critical, or significant Product Characteristics to focus on.
When considering Product Characteristics in FMEA, they are often associated with other FMEA-related data fields. For example, along with the description of a Product Characteristic, analysts may want to include a specific symbol. These symbols make analysis easier by providing an easy visual tag. For example, by employing a special symbol for key characteristics, it is easy to see at a glance in the FMEA Worksheet all the items which are most important for analysis.
In Relyence 2021 Release 1, you can define a list of Product Characteristics along with associated data. The associated data fields include a symbol, the Severity, the Effect that applies for Design FMEA (DFMEA), and the Effect that applies for Process FMEA (PFMEA). When in the FMEA Worksheet, you can select from this list of predefined Product Characteristics and all the associated information will be retrieved and entered automatically.
Relyence FMEA Product Characteristics Definition Example
For example, assume two bolts are required to fasten a camera to a drone body. If the bolts are not the correct diameter and are too small, they may be loose when installed. In this scenario, the camera could fall off the drone during flight. Therefore, a key Product Characteristic is Camera fastener bolt diameter. A key characteristic symbol, such as

, could be used for the diameter characteristic. The Failure Mode tied to this Product Characteristic may be Camera bolts too small. In your DFMEA, one Effect would be Camera disengages during flight. In your PFMEA of the drone assembly process, one Effect would be Camera improperly fastened to the drone. The Severity for these effects could be set as a 6 to indicate that while the drone may be operable, the secondary function of taking videos will not be working. With the new Product Characteristic Definition Table in Relyence 2021 Release 1, you only have to select the Camera fastener bolt diameter product characteristic in either your DFMEA or PFMEA Worksheet and the associated data including the symbol, the Effects, and the Severity will all be filled in for you.
As you can see, this approach enables you to make sure your FMEA is consistent and controlled. By defining your Product Characteristics and associated parameters for team members and analysts to use, your FMEAs are naturally better managed and efficient. Using this new feature is not required for Relyence FMEA, but you can see how utilizing this approach will improve your FMEA process and make you more confident in your analyses.
Concatenate Function in Formulas
Our last release introduced the powerful Relyence Formulas feature. Similar to Formulas found in Excel, Relyence Formulas provide a flexible way for you to create formula-based equations for your FMEA, FRACAS, and Reliability Prediction analyses. In our Relyence 2021 Release 1, we've added a handy new function to Formulas: Concatenate.
Concatenate allows you to join together all the values that are contained in a child data field into a single parent data field. You specify the field to concatenate and an optional separator for the individual values. If you do not define a separator, the values will appear as a list of values on separate lines. For example, you could concatenate all Effects into a single "Effects List" field.
Thank You for Your Contributions!
Relyence 2021 Release 1 also introduces a number of additional new features designed to make your job easier to accomplish:
New FMEA fields available on Worksheets for support of AIAG standard-based FMEAs including Parent Subsystem Name, Child Subsystems, Higher Level Functions, and Lower Level Functions
Ability to save, name, and manage personal and shared Filters for easy reuse
Redesigned Workflow controls for easier Workflow Step progressing and regressing
Ability to designate which Reliability Prediction Failure Rate field to use for cross-module linking calculations
Streamlined Sidebar menu for easier selection
New Permissions for finer control of functions, such as Edit Properties for all modules
GetSubsystems() API call now returns all associated Subsystem data fields
Many other minor improvements and additions suggested by our customers
We extend a "Thank you!" to many of you who provided us with wise and useful recommendations for these extras. As always, please keep them coming! You help us to continue to improve our products and make Relyence a better and more advanced solution.
Free Trial of Relyence Reliability Software
If you are a current Relyence cloud-based customer, you will see all the new capabilities now. If you are an on-premise customer, you will be able to access all these new features once you update your installation. Feel free to reach out with your comments if you are a current Relyence customer, a soon-to-be customer, or a future customer! You all help us to remain the best in our field!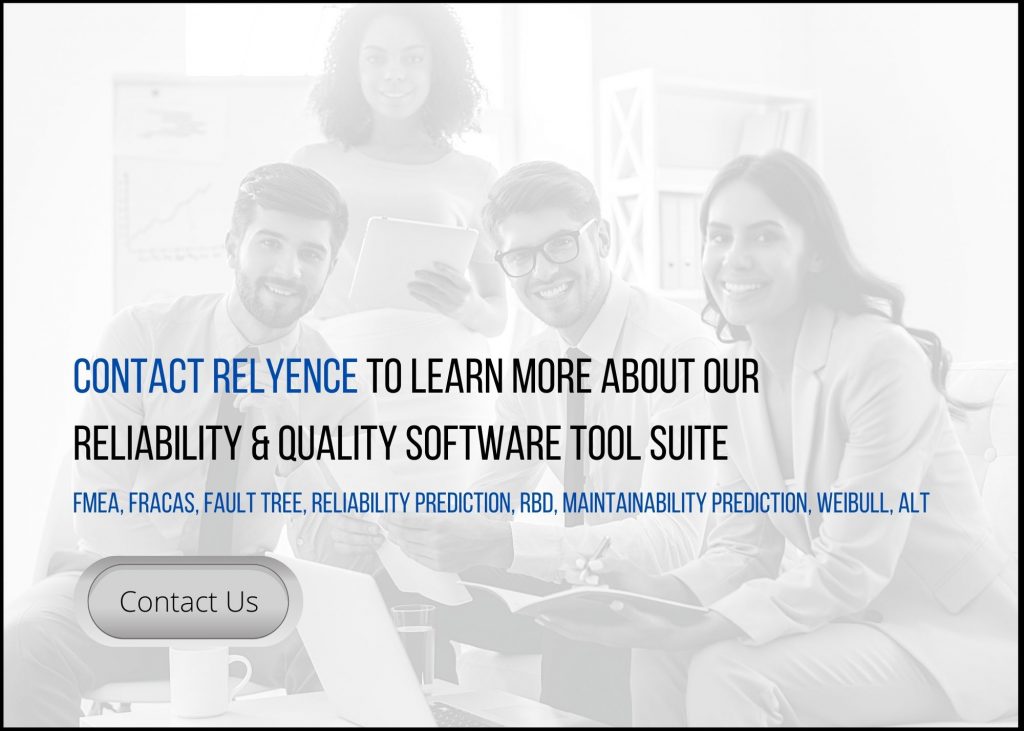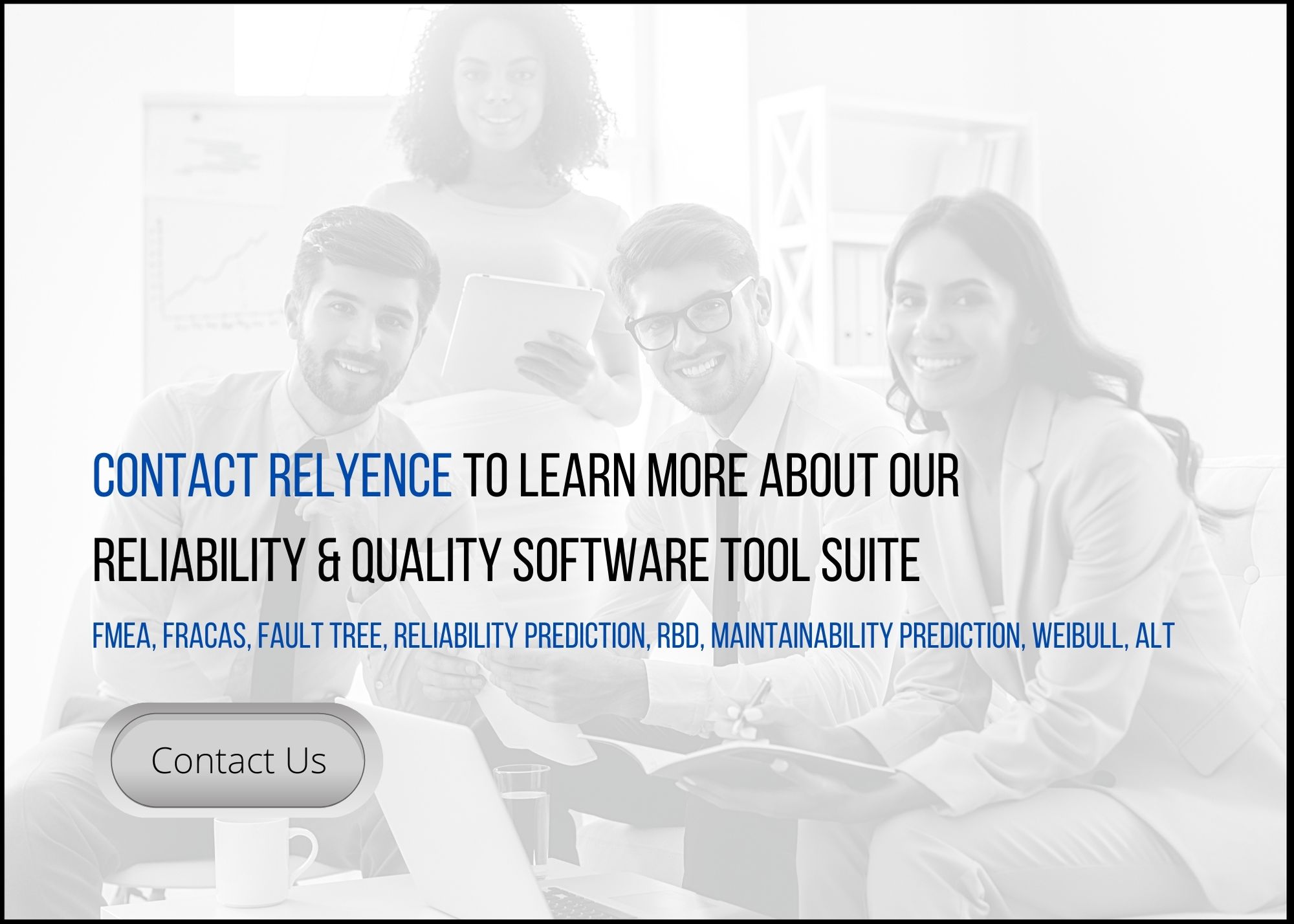 As always, if you would like to check out these new features, or any of the capabilities of the Relyence software tool suite, you can sign up for a completely free trial. No hassle, no strings, just register here and put us to the test! Or call today to speak to us about your requirements or schedule a personal demo at your convenience.