Relyence Weibull Software Overview
Life data analysis encapsulated in a flexible, friendly software tool
Complete Weibull Software
Relyence's Weibull software is a complete life data analysis software tool. Quickly enter your test, field, or customer return data and easily get results to quantify how your products are performing. Answer questions such as: Is my product reliability increasing or decreasing? What do I expect my product reliability to be in the future? What is the mean life of my product?
Relyence Weibull is a powerful platform for life data analysis. Simply enter your data and engage the powerful calculation engine to analyze your data to find useful distribution parameters, or even identify the optimal distribution, such as Weibull or lognormal. Then quickly depict your custom interactive chart allowing you to see how your system is performing.
Relyence's comprehensive platform for life data analysis is rounded out with a robust feature set – including Reliability Growth Analysis (RGA), built-in Analytics Calculator, Best Fit analyzer, and integration with Relyence Reliability Prediction, RBD (Reliability Block Diagram), and FRACAS (Failure Reporting, Analysis, and Corrective Action System).
Take Relyence for a Test Drive!
Take us for a test drive with a Weibull software free trial. No commitment. No hassle. Just
sign up
 today to see Relyence in action. Our Weibull life data analysis software free trial requires no download or installation and includes all the features of our complete Weibull package. Or, call today to schedule a personalized demo. You won't be disappointed!
Discover Relyence Weibull
Get the details on how Relyence Weibull meets all your analysis needs
Spotlight on Relyence Weibull Software
Discover the unparalleled features that make Relyence Weibull software the choice tool for life data analysis.
Why use Weibull Analysis?
Weibull analysis is widely used by engineers due to its proven power and versatility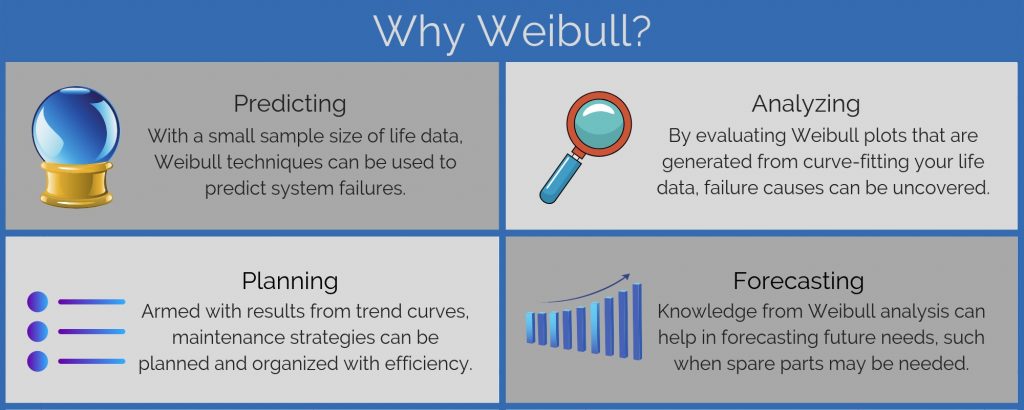 Weibull Software – What & Why
Answering the key questions about Weibull software tools

Check out our blog for more information on Weibull Life Data Analysis, Relyence Weibull, and other reliability & quality topics.
Subscribe to Our eNewsletter
We won't bombard you with emails! Our eNewsletter is timely and informative. And gets great reviews!
"Your Advisor is well written—simple (appealing since not cluttered), concise (efficient), and most importantly, technically informative (effective). Thank you!"
Tim A., Reliability-Risk Engineer
Relyence Advisor: Tools & Tips for the Reliability and Quality Professional
Note: You can unsubscribe at any time.
Why wait? Get your no-hassle free trial today!
See why Relyence is the name to rely on for excellence! Our Weibull software free trial is completely hassle-free – no downloads, no installations, no waiting. Simply open a browser and you're ready to go with Relyence! You can start with our step-by-step tutorial if you prefer, or jump right in. Our Weibull free trial is fully functional, so you can give us a complete test drive. Why wait? Get started today! If you'd like a personal demo, feel free to call 724.832.1900 or schedule at your convenience.