This article is an excerpt from our "Systems Engineering & Reliability Engineering: A Powerful Partnership for Success" white paper.
What is Systems Engineering?
Systems Engineering is a high-level, holistic approach to designing and developing complex systems. The main objective of Systems Engineering is to ensure that a system achieves its intended goals by providing an organized approach to system development from start to finish. While Systems Engineering itself is not a core engineering discipline such as mechanical or environmental engineering, it provides a methodology for combining all aspects and disciplines involved in product design and development in order to effectively create and deploy successful systems.
A significant component of Systems Engineering is that it is not intended to focus only on the technical details of the system production, but on everything that contributes to it or affects it. So, for example, when it considers all the engineering aspects of design and development requirements, it also looks at outside influencing factors such as the overall organization's involvement, the process, and the human elements that have impacts on system development.
Systems Engineering offers a well-organized, problem-solving approach to stepping through the product life cycle from inception to retirement. At the high level, the stages of a product life cycle include planning, design and development, testing and verification, manufacturing, and deployment. Each of these stages is then broken down further and include various elements such as requirements definition, functional definition, risk assessment, control plans, compliance audit tracking, incident report handling, to name a few. While team members across a wide spectrum of disciplines are involved in all these steps along the way, it is the task of the Systems Engineer to look at the overall Systems Engineering process and keep things properly on track for success.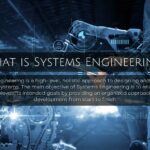 How does Systems Engineering relate to Reliability Engineering?
Reliability Engineering is a critical component of Systems Engineering. Because Reliability Engineering focuses specifically on the analyzing system reliability in any phase of the product lifecycle, System Engineers use Reliability Engineering concepts to ensure products meet their reliability goals.
Reliability Engineering is especially useful in the design phase of product development to ensure reliability is designed into the system. The earlier in the lifecycle reliability and quality is analyzed, the easier and far less costly it is to make design adjustments to improve problem areas. Reliability Engineering tools are also highly capable of analyzing risk and offer valuable techniques for product risk assessments.
For example, the use of Failure Mode and Effects Analysis, or FMEA, is an example of how reliability tools can impact the Systems Engineering process. FMEA enables engineers to review all potential failure modes of a system and consider the resulting effects of those failures. Engineers can then review those effects that are high risk and work to eliminate them or mitigate their effects. Making these critical changes during the design process is substantially less costly than dealing with these issues once the product is out in the field. If undiscovered until deployment, the resulting issue not only can cause a redesign and even a retooling of the manufacturing process, but also results in reputational harm that can be even more costly to your business.
Also, Reliability Engineering analysis tools are adept at aiding in all aspects of the lifecycle, not only the design phase. For example, techniques for testing and verification, controlling the manufacturing process, maintaining systems in the field, and tracking and handling customer issues are all important parts of the Reliability Engineer's tool set.
In terms of ensuring system quality and performance, Reliability Engineering principles and tools offer unmatched capabilities for Systems Engineers.
Discover More
The "Systems Engineering & Reliability Engineering: A Powerful Partnership for Success" white paper covers the following topics:
Introduction
What is Systems Engineering?
What are the Systems Engineering Standards?
What do Systems Engineers Do?
What are the Benefits of Systems Engineering?
How Does Systems Engineering Relate to Reliability Engineering?

Planning and Requirements Definition

Boundary Diagrams
P-Diagrams

Design and Development

Failure Modes and Effects Analysis (FMEA)
Reliability Prediction and MTBF Analysis

Allocation Analysis
What-If? Analysis
Derating Analysis

Reliability Block Diagrams (RBDs)
Fault Tree Analysis (FTA)

Testing and Verification

Design Verification Plan and Report (DVP&R)
Accelerated Life Testing (ALT)

Manufacturing

Process FMEA (PFMEA)
Control Plans

Deployment

Maintainability
Weibull Analysis
FRACAS

Relyence Studio
Download the full white paper here. To learn more about our Relyence Studio platform, feel free to contact us or schedule a personalized demonstration webinar. Or give us a free trial run today!