Reverse Failure Mode and Effects Analysis (RFMEA) is an innovative approach to applying the proven FMEA risk management and mitigation processes in a unique manner. The RFMEA technique was initially introduced and adopted in the automotive OEM space – notably by Ford. RFMEAs offer an approach to finding new failure modes, causes, and areas of improvement that were missed during the FMEA process.
There can be many approaches in achieving this goal, including trying to make defective parts, attempting to bypass prevention or detection controls, or any other ways of attempting to uncover potential problems. In essence, the goal is to "break" the system or process under analysis and find failures that were not accounted for during the FMEA. It is a proactive technique that aims to discover the cause of defects or quality issues before they occur. Remedies can then be put in place before production begins.
For more details about RFMEA methodology, review "The 5 W's of Reverse FMEAs". This article will focus on how to perform the RFMEA process within your organization. For our purposes, we will use Relyence Reliability Studio and specifically look at two of the powerful tools in this platform: FMEA and FRACAS.
What are the Best Tools for Performing RFMEAs?
Because there is no standard or strict methodology to perform RFMEAs, you are free to create your own custom system that is tailored to your organization's needs and requirements. Therefore, you can design your own RFMEA process that works best for your organization.
An important consideration is your RFMEA tool of choice. Because RFMEAs are built on FMEA concepts, it may be beneficial to use the same tool for both your FMEAs and RFMEAs. Or you may find it better to log your RFMEA findings in a tracking system such as FRACAS and then use that to update your FMEAs. It is up to you to determine the best approach for your team – each is advantageous and useful.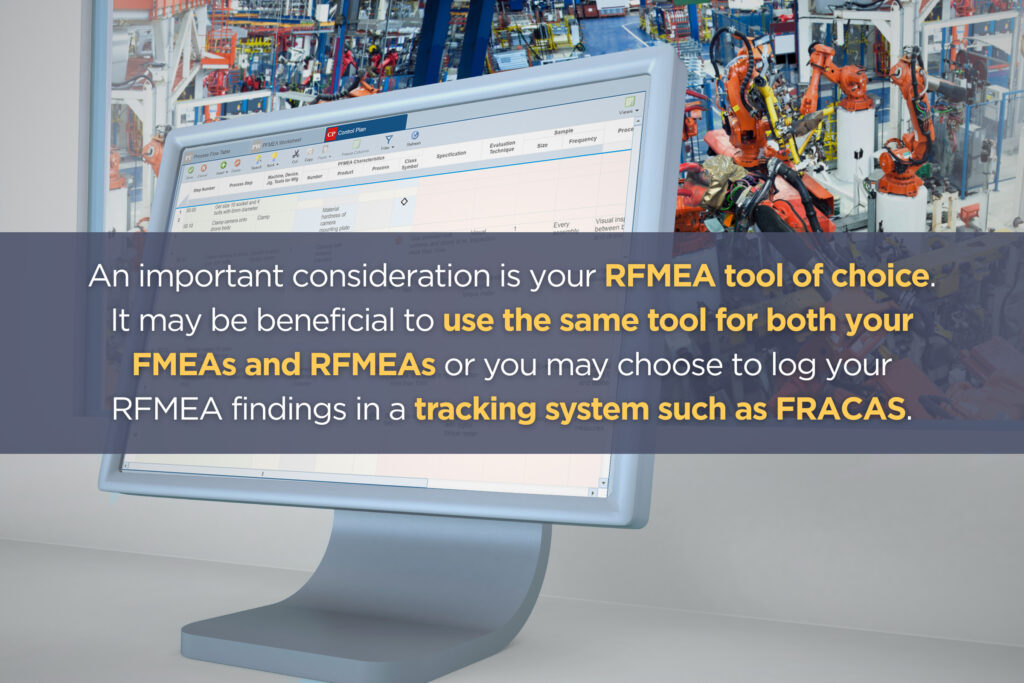 In this article, we will review the process and provide example case studies on how to perform RFMEAs using both Relyence FMEA and Relyence FRACAS. Additionally, though the RFMEA technique can be used with any type of FMEA, we will focus our discussion in this article on Process FMEA (PFMEA).
Using FMEA to Perform RFMEA
When looking for a tool to perform your RFMEAs, it can be convenient to choose the same tool as you use to perform your FMEAs. Additionally, because RFMEAs are often performed at the manufacturing site, being able to use a smartphone, tablet, etc. to access your FMEA data provides a crucial benefit for RFMEAs. You can complete your RFMEAs right from the shop floor and thus, ensure that no knowledge is lost to a paper trail or forgotten before getting back to your computer. Also, images can be taken and uploaded directly to your FMEA if necessary.
In Relyence FMEA, you can create any number of FMEA Worksheet Views that provide a valuable method to effectively guide your FMEA process. Worksheet Views allow you to see FMEA data in a variety of ways and tailor the data fields shown on your Worksheet for each step in the FMEA process.
For the purposes of performing an RFMEA, this means you can create supplemental views that add on the appropriate RFMEA data fields to your Worksheet. This RFMEA Worksheet can also include relevant PFMEA data if deemed appropriate and useful for the RFMEA investigation. Or you can choose to hide your PFMEA data to create a more condensed RFMEA Worksheet. For example, once the RFMEA process has been initiated, Functional Analysis has been completed, so you may choose to hide all Functional Analysis fields except for the Process Step Number. This ensures your RFMEA Worksheet is concise and easily manageable. Additionally, Relyence FMEA offers various types of customizable fields to add as columns on your worksheet, including text-based fields, checkboxes, images, and more that can be used to tailor the RFMEA Worksheet exactly to your needs.
Example RFMEA: Using the Relyence FMEA Worksheet
As an example, we will consider how a manufacturer of a remote-controlled quadcopter drone could perform an RFMEA using Relyence FMEA. The entire assembly process consists of many Process Steps, however for this example, we will examine only the step of fastening a camera onto the drone body.

To perform an RFMEA on this Process Step, we determine the fields from the PFMEA that are required and add the appropriate RFMEA fields onto our Worksheet using the Customize View feature. For this example, we decide the PFMEA fields for Step Number, Failure Mode, Cause, and Prevention and Detection Controls may be helpful for the RFMEA team members. Additionally, we add a few new fields to the FMEA Worksheet that are specific to the RFMEA process to create our RFMEA Worksheet as shown highlighted below:

Note that this is just one example of a potential RFMEA Worksheet format. RFMEA's flexible framework and Relyence FMEA's fully customizable features allow you to tailor the RFMEA Worksheet and included fields to your needs. Now with our customized Worksheet, we perform the RMEA on Process Step 50.15 on the manufacturing floor. A report of our resulting example RFMEA is shown below:

In this case, the RFMEA process helped us find potential failure information that was previously missed in our PFMEA. With the RFMEA data in hand, we can now return to our PFMEA Worksheet and add more information where required.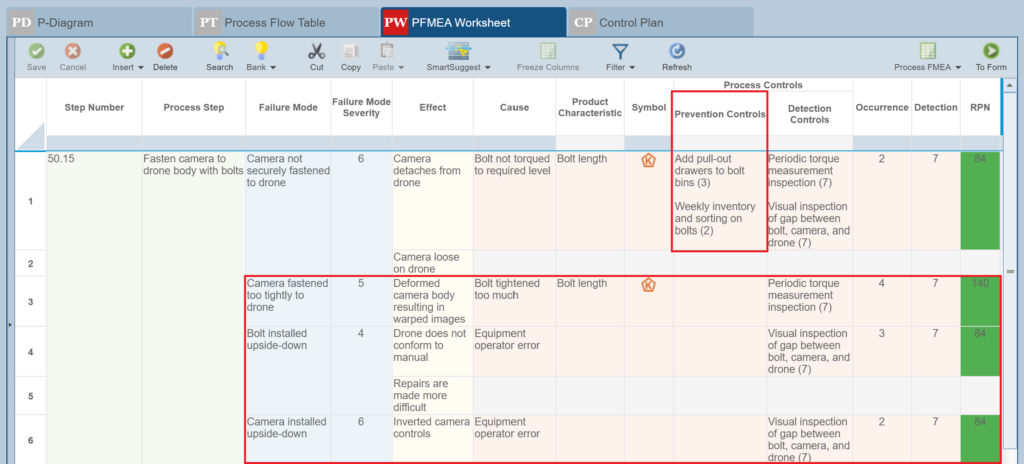 Note that we were able to decrease the RPN on our first record from 168 to 84 by adding in the Prevention Controls recommended from the RFMEA process. Additionally, we have added in the new Failure Modes and their associated failure data to our PFMEA Worksheet.
Using FRACAS and FMEA to Perform RFMEA
FRACAS (Failure Reporting, Analysis, and Corrective Action System) is a type of CAPA (Corrective and Preventive Action) management system that provides a comprehensive tracking and control framework for the proper handling of all your issues of concern. FRACAS is typically used to track problems that arise during in-field use; however, its powerful issue management capabilities can also be leveraged for usage in RFMEA processes. Both RFMEA and FRACAS are designed to handle failure data. The goal of RFMEA is to uncover potential failures before they arise. The goal of FRACAS is to appropriately handle failures when they occur. Accordingly, the failure data management abilities of FRACAS provide a natural match for RFMEA findings.
Relyence FRACAS offers the innovative Failure Direct ConnectTM feature to integrate your FMEA and FRACAS data. Failure Direct Connect ensures cohesive failure data management and provides an integrated, effective method to share data between your FMEA and FRACAS.
The usage of Failure Direct Connect ensures you get the best of both worlds – the risk analysis and mitigation capabilities of FMEA with the comprehensive issue management processes of FRACAS. The advantages of Relyence Failure Direct Connect can be leveraged for your RFMEA findings.
When using Relyence FRACAS in combination with Relyence FMEA when performing your RFMEA, there are two scenarios that you may encounter. The first involves adding new information to your FMEA Worksheet based on RFMEA findings. The second is denoting that existing FMEA information was verified during the RFMEA process.
Example RFMEA: Using Relyence FRACAS Failure Direct Connect to Automatically Update FMEA Worksheets
We will return to our example quadcopter drone manufacturer's RFMEA on the process step of fastening a camera to the drone body.

This time though, instead of creating a new Worksheet View with the appropriate RFMEA fields, we will use Relyence FRACAS to capture the RFMEA data. We will examine how Relyence FRACAS can be used to capture the new Failure Mode of Camera installed upside-down with its associated Cause and Effect data.
In Relyence, we customize our Incident Form to include the appropriate PFMEA Failure Data group of fields. We also add additional text and image fields to allow us to enter more information about our RFMEA findings. Then, we proceed to capture our RFMEA data, which includes text-based details, images to show the uncovered issue, and the new Failure Mode, Effect, and Cause data that should be added to the PFMEA. The example RFMEA finding Camera installed upside-down is logged into Relyence FRACAS as shown below: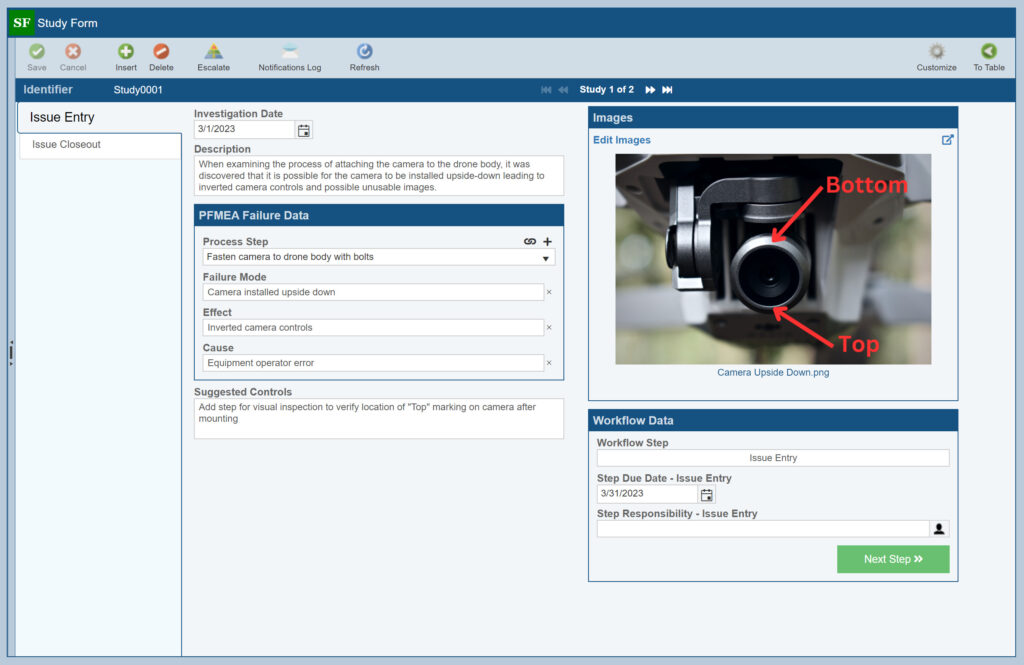 Now, we go back to our PFMEA Worksheet to update it based on our RFMEA finding. We engage Relyence Failure Direct Connect by selecting Insert > FRACAS Failure Data from the toolbar button. We automatically see our newly added Failure Mode and associated data from Relyence FRACAS, as shown below:

This new data needs to be added to our FMEA Worksheet, so we select this line item by clicking the associated checkbox and then clicking the Add button. The failure data captured from our RFMEA study is automatically added to our PFMEA Worksheet. We can then enter any additional information as required in our FMEA.

As you can see, the Failure Direct Connect feature enables you to manage your shared FMEA and FRACAS data in an organized and efficient manner. It makes the RFMEA process easy and consistent, and provides a clear and effective way to implement RFMEA.
Example RFMEA: Using Relyence Failure Direct Connect to Link to FMEA Data
Failure Direct Connect also allows insight into your existing FMEA data during FRACAS data entry. You can easily review the pertinent FMEA data without the need to directly access FMEA Worksheets. This technique can be very useful if your RFMEA team is not involved with FMEA or your FMEA process. This way, they have access to the information they need for RFMEA findings without the need to delve into all the details of the full FMEA Worksheets.
We will once again consider the Failure Mode Camera not securely fastened to drone found as part of the RFMEA process. Again, we start by creating another FRACAS Incident. However, in this case we use the PFMEA Failure Data group to connect to the associated Failure Mode, Effect, and Cause data from our PFMEA. We select the appropriate Process Step, Failure Mode, Effect, and Cause data from the dropdown lists, thereby linking this finding to our existing PFMEA Worksheet information.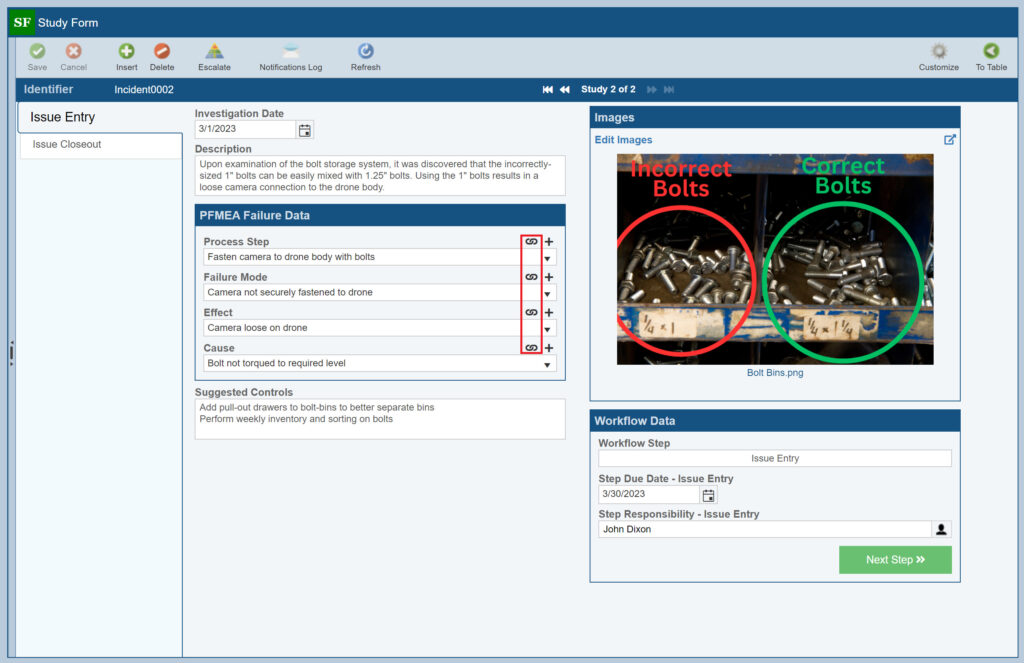 The link icons in the PFMEA Failure Data group box fields indicate that the data from our RFMEA is covered in our PFMEA. Note that we can still add additional text and image fields to provide more information about this RFMEA finding as needed.  Now, we switch back to our FMEA Worksheet where we have added the Failure Direct Connect RFMEA Studies Connected fields to our Process Step, Failure Mode, and Cause fields. These fields show the data captured during the RFMEA process and logged in FRACAS. By including these fields on our PFMEA Worksheet, we can ensure that an RFMEA has fully covered all elements of our analysis.

For our Failure Mode of Camera not securely fastened to drone, we can view the data from our RFMEA if desired. Click the hyperlinks that appear on the Worksheet where the number of Studies is indicated. This will open a dialog with the associated RFMEA Study data:

In this case, additional Controls were suggested as part of the RFMEA process, so we add those to our PFMEA Prevention Controls:

The Advantages of Using Relyence Studio for RFMEAs
As there are no specific standards for the Reverse FMEA process, it is up to you to choose the best approach. As you can see from the examples above, Relyence Studio offers several effective approaches for performing RFMEAs.
Performing your RFMEAs directly within your FMEA provides you with an already established risk mitigation strategy that can easily be extended to add the appropriate RFMEA fields using Relyence FMEA's customization features. Utilizing different views of the PFMEA Worksheet to keep your RFMEA data separate from your full PFMEA risk data is a natural extension of your FMEA. Additionally, with this approach, your FMEA team is able to continue using a RAMS technique they are already familiar with, providing a seamless transition into capturing RFMEA data.
Relyence FMEA can be used as a stand-alone tool for implementing a basic Reverse FMEA process. For example, simpler process steps, such as those involving a single operator or machine function, can potentially be analyzed directly within your FMEA Worksheet Views without the need for anything more. In this way, you are simply expanding your FMEA to include RFMEA as well.
However, for more complex process steps, such as those involving multiple team members or equipment operations, the robust issue management capabilities of FRACAS could be employed to perform your RFMEAs. A FRACAS process can provide a host of powerful management features, such as Workflow, Approvals and Notifications and expanded data storage options with Subtables and Dependent Lists. Also, it offers a clear division between your PFMEA data (retained in FMEA) and RFMEA data (retained in FRACAS), which may be desirable in some cases. This can ensure your FMEA Worksheets are kept concise while still capturing sufficient data in your FRACAS-based RFMEA efforts.
If the FMEA-FRACAS duo approach is used for RFMEA, Relyence Failure Direct Connect allows for data synchronization between your FRACAS and FMEA for efficiency and effectiveness. RFMEA data can be connected to your FMEA to ensure all required processes are examined and newly discovered RFMEA failure information can be added directly to your PFMEA Worksheet. In addition, the optional capability to email notify the PFMEA team that there is new RFMEA data to review can be used as well.
Conclusion
RFMEA can be a powerful technique to uncover potential failures and areas of improvement that were overlooked during the initial PFMEA process. Because it is intended to be completed with the help of the equipment operators, it ensures that all team members have a hand in ensuring your process is as effective and problem-free as possible. Additionally, performing RFMEAs ensures you catch potential failures before they occur and creates a quality-driven environment at your organization. Note that you can also choose to employ an iterative RFMEA approach. For example, after new failure information from RFMEA is added to your PFMEA, a second RFMEA is performed to analyze the effectiveness of the new controls that were put in place. If performed in this manner, RFMEAs ensure that your risk mitigation strategies are successful.
Relyence FMEA offers a powerful and fully customizable off-the-shelf FMEA solution to perform your Failure Modes and Effects Analyses. It combines out-of-the-box support for Process Flow Diagrams, Boundary Diagrams, P-Diagrams, and more with powerful features, such as Knowledge Banks, SmartSuggest, AutoFlow, and full Workflow capabilities. Due to its flexible framework, Relyence FMEA can easily be extended to meet your RFMEA needs.
Relyence FRACAS offers a fully compliant off-the-shelf software solution for your FRACAS process and supports the most commonly-used process methodologies out-of-the-box. Relyence FRACAS provides an adaptable and easily customizable platform to support your issue management needs. With its integration with Relyence FMEA, it is a powerful platform to manage your RFMEA processes.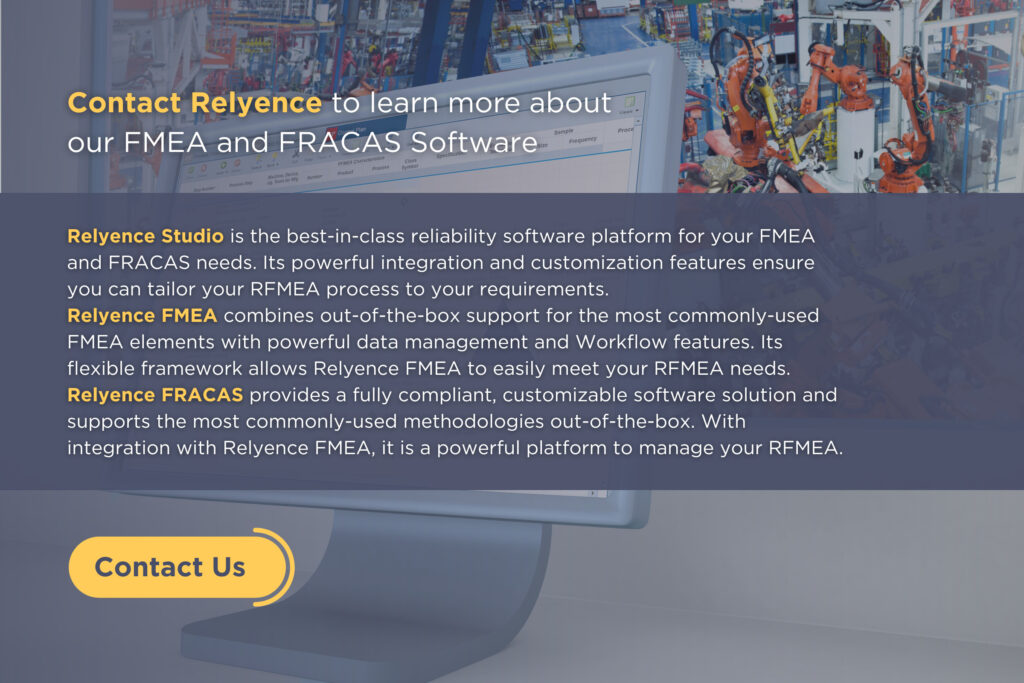 Sign up for a completely free no-hassle trial, schedule a personal demo at your convenience, or contact us to speak to one of our knowledgeable representatives.