Relyence RBD Software Overview
The power and performance of Relyence Reliability Block Diagram analysis software
Relyence's RBD software is a complete reliability block diagram software tool. The visual diagramming front-end provides an easy-to-use interface for creating impressive and organized graphic system models. The built-in smart layout feature expertly configures and manages your model layout and connections.
Relyence's Reliability Block Diagram software is a powerful platform for system modeling, including complex systems incorporating redundancy. The calculation engine includes a Monte Carlo simulation engine employed when needed for accurate analysis, and provides results for all your most important reliability and availability metrics.
Relyence's comprehensive platform for system modeling is rounded out with a robust feature set to enhance your reliability block diagram software, including flexible report generation, features to manage and organize your diagrams, integration with your reliability prediction & Weibull analyses, and dashboards for high-level overviews.
Take Relyence for a Test Drive!
Take us for a test drive with an RBD software free trial. No commitment. No hassle. Just
sign up
 today to see Relyence in action. Our reliability block diagram software free trial requires no download or installation and includes all the features of our complete RBD package. Or, contact us to schedule a personalized demo. You won't be disappointed!
Discover Relyence Reliability Block Diagram
Get the details on how Relyence RBD meets all your analysis needs

Spotlight on Relyence Reliability Block Diagram Software
Discover the unparalleled features that make Relyence Reliability Block Diagram software the choice tool for system modeling
Redundancy Types in RBD Analysis
Relyence RBD supports the full range of real-life redundancy variations: series, cold standby, hot standby, and parallel.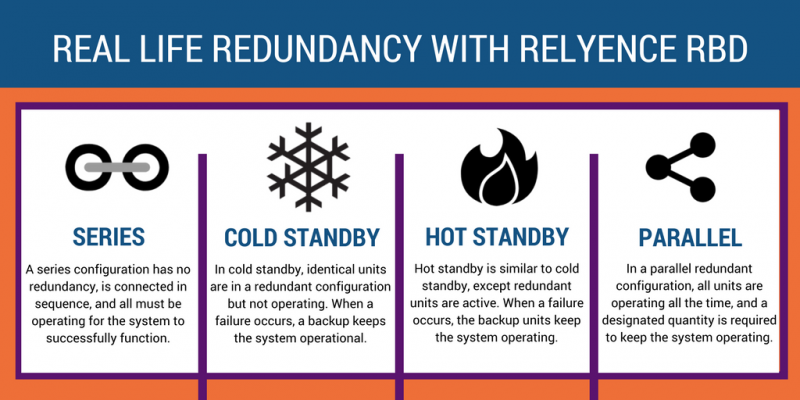 Reliability Block Diagram Software – What & Why
Answering the key questions about reliability block diagram software tools
Check out our blog for more information on reliability block diagrams, Relyence RBD, and other reliability & quality topics.
Subscribe to Our eNewsletter
We won't bombard you with emails! Our eNewsletter is timely and informative. And gets great reviews!
"Your Advisor is well written—simple (appealing since not cluttered), concise (efficient), and most importantly, technically informative (effective). Thank you!"
Tim A., Reliability-Risk Engineer
Relyence Advisor: Tools & Tips for the Reliability and Quality Professional
Note: You can unsubscribe at any time.
Why wait? Get your no-hassle free trial today!
There's no better time than today to start your journey to reliability excellence with Relyence. Our RBD software free trial is guaranteed no hassle – there are no downloads or installs to contend with. Simply open a browser on your device of choice and see Relyence RBD in action! Our start up guides walk you step-by-step through the basic functions, and then you can dive into the more advanced features as you desire. If you'd prefer a personal demo, call 724.832.1900 today or schedule a time to talk that fits in your calendar!