The most efficient MTTR software tool available to optimize your repair and maintenance activities and meet MIL-HDBK-472 requirements

Try for free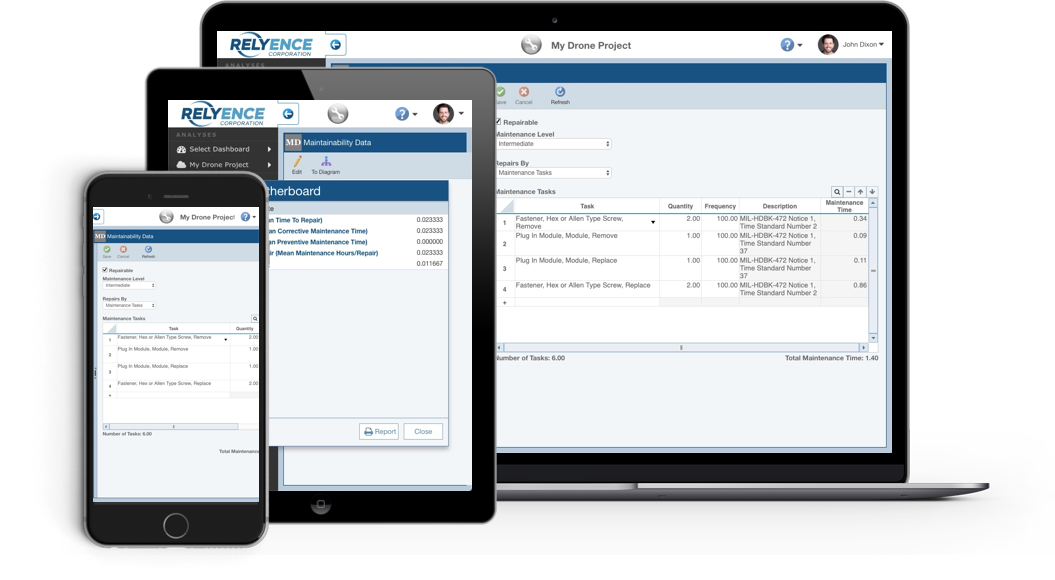 Relyence Maintainability Prediction Software Overview
Setting the standard in maintainability prediction analysis
Relyence Maintainability Prediction provides everything you need in an efficient framework for performing maintainability analysis using industry standard techniques, ensuring your full compliance. Its user interface, powerful calculation engine, and comprehensive reporting provide the capabilities that you will learn to rely on.
The calculations built into Relyence's Maintainability Prediction software allow you to improve your system by predicting your overall repair rates, allowing you to minimize repair times and downtime, maximizing availability. You can create your own libraries of maintenance tasks, group them together as desired, and define repairs at any system level.
Relyence's comprehensive platform for maintainability predictions includes an array of valuable capabilities. Among these is a direct integration with Relyence Reliability Prediction, support for Fault Detection and Isolation (FD&I) outputs, built-in task library from MIL-HDBK-472, comprehensive repair and availability calculations, and detailed reports.
Take Relyence for a Test Drive!
Take us for a test drive with a free trial. No commitment. No hassle. Just
sign up
 today to see Relyence in action. Our maintainability prediction software free trial requires no download or installation and includes all the features of our complete Maintainability Prediction package. Or, call today for a personalized demo. You won't be disappointed!
Discover Relyence Maintainability Prediction
Get the details on how Relyence Maintainability Prediction meets your analysis requirements
Spotlight on Relyence Maintainability Software
Discover the feature set and capabilities that make Relyence Maintainability Prediction software the tool of choice
MIL-HDBK-472 Maintainability Prediction
Relyence Maintainability Prediction fully supports all elements of MIL-HDBK-472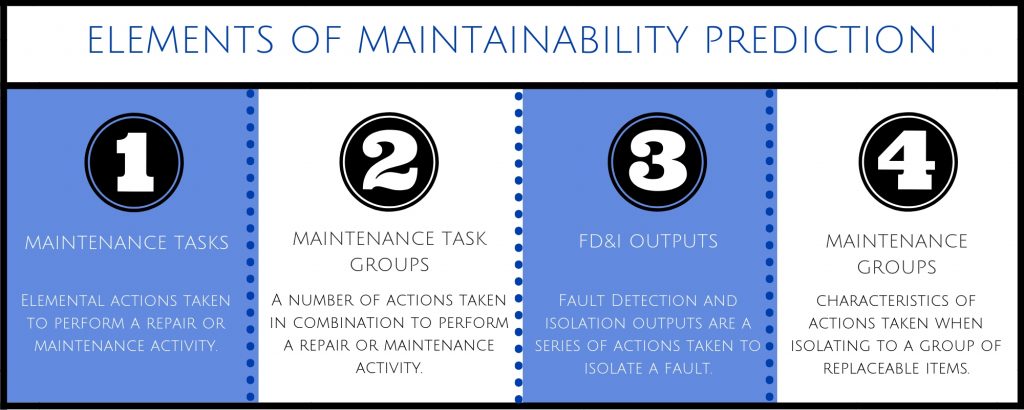 Maintainability Prediction Software – What & Why
Answering the key questions about maintainability prediction software tools

Check out our blog for more information on maintainability predictions, Relyence Maintainability, and other reliability & quality topics.
Subscribe to Our eNewsletter
We won't bombard you with emails! Our eNewsletter is timely and informative. And gets great reviews!
"Your Advisor is well written—simple (appealing since not cluttered), concise (efficient), and most importantly, technically informative (effective). Thank you!"
Tim A., Reliability-Risk Engineer
Relyence Advisor: Tools & Tips for the Reliability and Quality Professional
Note: You can unsubscribe at any time.
Why wait? Start your no-hassle free trial today!
See Relyence Maintainability Prediction in action today! Our maintainability prediction software free trial is absolutely no hassle – no downloads, no installs – just open a browser in any device you choose! We include a step-by-step getting started tutorial to enable you to get up and running in no time. Our free trial is fully functional, so you can test out any of our more advanced capabilities as you desire. It's quick, it's easy, it's hassle-free, so why wait? Check us out today! Or, if you'd like a personal demo, call 724.832.1900 or schedule a time that works for you.