The best-in-class fault tree software tool for comprehensive risk and safety analysis

Try for free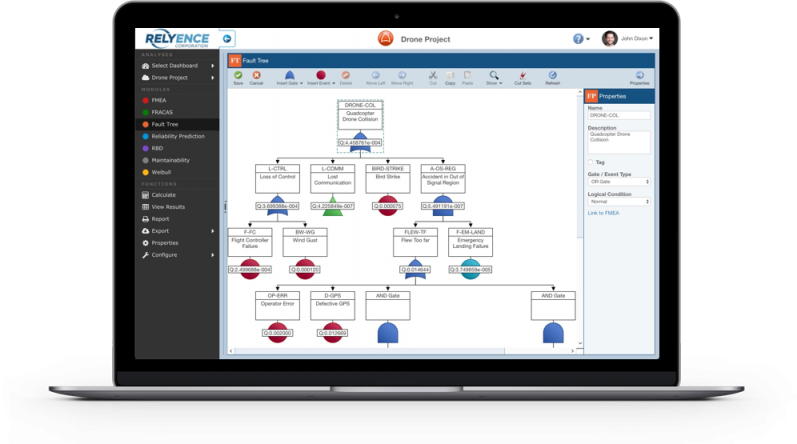 Relyence Fault Tree Software Overview
Comprehensive fault tree risk analysis software 
Meeting All Your FTA Needs
The Relyence Fault Tree Analysis software provides a flexible and friendly framework for complete analysis of small and large scale risk assessments. Relyence provides an intuitive interface to construct well-organized and visually appealing diagrams. The front-end user interface is matched with an equally impressive back-end mathematical engine.
Impressive Power & Performance
Relyence's locally-installed or online fault tree generator tool provides a comprehensive platform for constructing diagrams and assessing risk. It supports a variety of input models, an array of gates and events, CCF groups, and disjoint events. Numerous risk metrics can be computed, including minimal cut sets (MCS), unavailability, and importance measures.
Feature-Rich & Highly Capable
Relyence's software for performing fault tree analysis probability calculations is rounded out with a robust feature set to enhance your analysis, including Fault Tree and Event Libraries, the ability to export to Excel, features to manage and organize large-scale fault tree diagrams, support for repeated events, and customizable dashboards for high-level overviews.
Take Relyence for a Test Drive!
Take us for a test drive. No commitment, no hassle. Just
sign up
 today to see Relyence Fault Tree in action. Our two-week fault tree analysis free trial requires no download or installation and includes all the features and functions of our complete package. Or, if you'd like a personalized demo, feel free to call our team today to schedule a time. You won't be disappointed!
Discover Relyence Fault Tree
Get the details on how Relyence Fault Tree meets all your analysis needs

Spotlight on Fault Tree Analysis Probability Calculations
Discover the unparalleled features that make Relyence FTA software the choice fault tree analysis tool for risk assessment
Complete Fault Tree Modeling
Our FTA modeling tool supports a comprehensive list of gates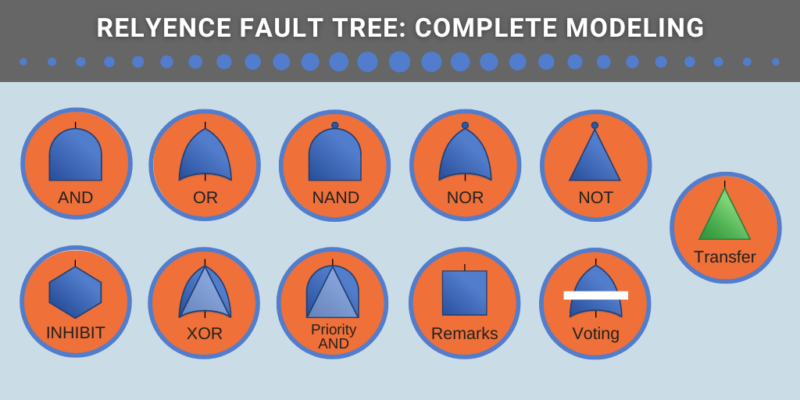 Fault Tree Software – What & Why
Answering the key questions about fault tree software tools
Check out our blog for more information on FTA analysis, Relyence Fault Tree, and other reliability & quality topics.
Subscribe to our eNewsletter
We won't bombard you with emails! Our eNewsletter is timely and informative. And gets great reviews!
"Your Advisor is well written—simple (appealing since not cluttered), concise (efficient), and most importantly, technically informative (effective). Thank you!"
Tim A., Reliability-Risk Engineer
Relyence Advisor: Tools & Tips for the Reliability and Quality Professional
Note: You can unsubscribe at any time.
Why wait? Get your no-hassle free trial today!
Ready to see why the Relyence name means rely on excellence? Our no-hassle free trial means you have no downloads and no installations – simply open a browser of your choosing, on any device you choose, and you can give our fault tree analysis software free trial a complete test drive. It's quick and easy, so there's no reason to wait! Or, if you prefer a personalized demo, feel free to call 724.832.1900 or schedule a time that works for you.