The Relyence Products
Best-in-class software tools meeting all your reliability and quality analysis needs
The Relyence Product Line Up
FMEAs, DFMEAs, PFMEAs, FMECAs, FMEA-MSRs, P-Diagrams, Process Flow Diagrams, Control Plans, DVP&R
Closed-loop corrective and preventive action platform
Risk assessment using FTA techniques
MTBF analysis based on MIL-HDBK-217, Telcordia, China's 299, 217Plus, & ANSI VITA 51.1, NPRD/EPRD
Reliability block diagram analysis for complex system modeling, including support for redundancy
MTTR analysis based on MIL-HDBK-472
Life data analysis using Weibull techniques
Complete Accelerated Life Testing analysis
Reliability and quality lifecycle management
The Relyence reliability suite is a complete analysis toolset that enables you to meet and exceed your reliability and quality objectives. Our tools for FMEA, FRACAS, Fault Tree, Reliability Prediction, RBD Maintainability Prediction, Weibull analysis, and ALT analysis are offered individually, or can combined in any configuration in our Relyence Studio integrated platform.
At Relyence, we believe in designing, developing, and delivering amazing products. Our applications not only provide the functional capabilities you need, but wrap those features in an elegant, well-designed user interface. This means that you'll find the Relyence tools are the most intuitive and most technologically advanced analysis tools available.
We realize that today's workplaces require connectivity, mobility, and collaboration. We have designed and built our reliability software suite to meet those needs. Fully browser-based and mobile-friendly, Relyence supports the anytime, anywhere requirements of your team. Our flexible, innovative platform is there to meet your demands.
We support our product line with our service and support expertise. With decades of reliability engineering domain knowledge, our team is here for you. We get continued acknowledgements for our responsive and knowledgeable team. From training, to implementation, to technical support our team is customer focused and committed to quality.
Get the details on how Relyence meets your reliability and quality analysis needs

Relyence: Rely on Excellence
You can expect the best with Relyence. It's in our name.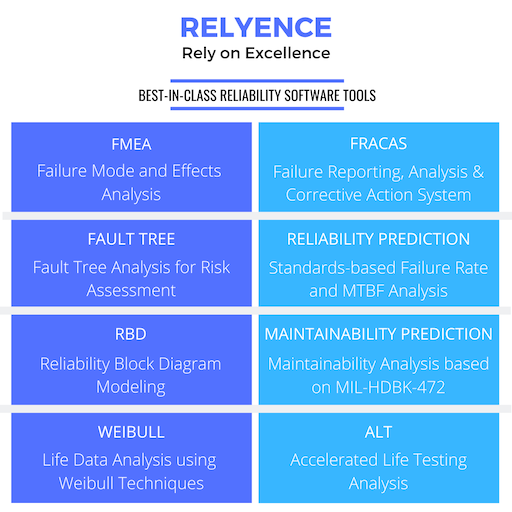 Subscribe to our eNewsletter
We won't bombard you with emails! Our eNewsletter is timely and informative. And gets great reviews!
"Your Advisor is well written—simple (appealing since not cluttered), concise (efficient), and most importantly, technically informative (effective). Thank you!"
Tim A., Reliability-Risk Engineer
Relyence Advisor: Tools & Tips for the Reliability and Quality Professional
Note: You can unsubscribe at any time.
What Our Customers Say About Us
I am very impressed with Relyence platforms and its capabilities, and I am impressed with its features and how convenient it is to use for Reliability Prediction.

Comprehensive and easy to use.

The Knowledge Bank incorporated within the software has drastically cut the time it takes to create our shell PFMEA's. If its D&PFMEA's you need to create, this is the software that you need.

Wow. Without a doubt this is the best service I've ever had from any company!

That's one of the big reasons why I chose Relyence, because you all are responsive to what the customer wants.

We're really impressed with the FTA capabilities and the API integration that's already available.

I would give Relyence a 10 for the near perfect service I have received.

Wonderful software. Easy to use.

10/10!

Once again, Relyence Rocks…even on Fridays!  Love y'all!
Why wait? Get your no-hassle free trial today!
With our completely free reliability software trial, you get instant access to our complete suite! No downloads, no installs – just click in your browser and you're in! You can test out any and all of our products – and all our powerful features and capabilities. With one click, you can access our step-by-step Getting Started Guides for a quick overview. It's easy, it's free, and takes minimal time – so why wait? You are welcome to schedule a personal demo if you prefer! Call 724.832.1900 or schedule at your convenience.