The most advanced and intuitive MTBF analysis software available for today's reliability engineers

Try for free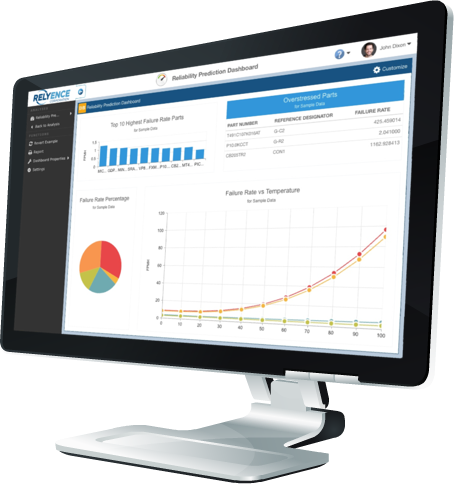 Relyence Reliability Prediction Software Overview
Why choose Relyence for your reliability prediction analysis software?
Fully supporting the worldwide accepted standards for prediction analyses – MIL-HDBK-217, Telcordia, 217Plus, NSWC Mechanical, ANSI/VITA 51.1, and China's GJB/z 299 – and adding features such as NPRD & EPRD support, dormancy, mission profiles, pi factor viewing, and failure rate adjustments based on lab test and field data, Relyence's MTBF software is your complete prediction analysis package.
Relyence offers data entry mechanisms to allow for rapid analysis backed up with an efficient reliability calculation engine to perform fast and accurate failure rate and MTBF calculations. With supplied device libraries, support for creating your own custom libraries, Intelligent Part Mapping, and mixed modeling features, Relyence's MTBF software makes quick work of your prediction tasks.
Along with supporting your core MTBF analysis functions, Relyence's Reliability Prediction software is enhanced with a long list of features to make your prediction activities efficient and effective – data importing and exporting, supplied part libraries, customized reports, dashboard overviews, derating analysis, allocations, mission profile support, what-if? analyses, an API interface, and much more.
Take Relyence for a Test Drive!
Take us for a test drive. No commitment, no hassle. Just
sign up
today to see Relyence Reliability Prediction in action. Our two-week reliability prediction free trial requires no download or installation, and includes all the features and functions of our complete analysis platform. Or, if you'd like a personalized demo, feel free to call our team today to schedule a time. You won't be disappointed!
Discover Relyence Reliability Prediction
Learn more about our best-in-class MTBF analysis software

Delve deeper into Reliability Prediction with our informative white papers

Spotlight on Reliability Prediction
Discover the unparalleled features that make Relyence the choice platform for MTBF software
The Advantages of Reliability Prediction Analysis
Key benefits of reliability prediction analyses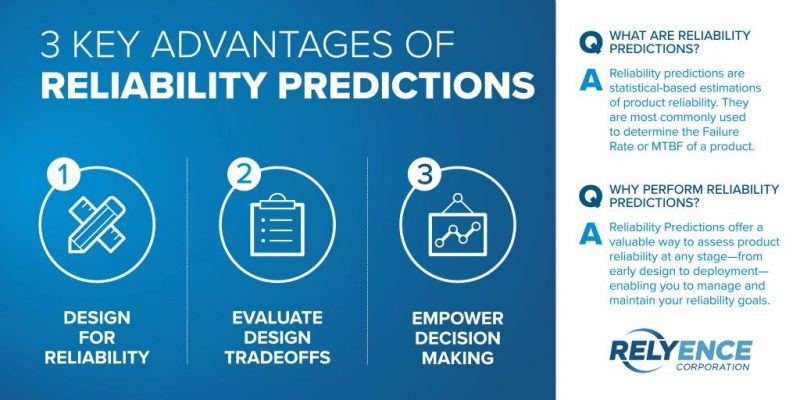 Reliability Prediction Software – What & Why
Answering the key questions about reliability prediction software tools
Check out our blog for more information on reliability predictions, Relyence Reliability Prediction, and other reliability & quality topics.
Subscribe to our eNewsletter
We won't bombard you with emails! Our eNewsletter is timely and informative. And gets great reviews!
"Your Advisor is well written—simple (appealing since not cluttered), concise (efficient), and most importantly, technically informative (effective). Thank you!"
Tim A., Reliability-Risk Engineer
Relyence Advisor: Tools & Tips for the Reliability and Quality Professional
Note: You can unsubscribe at any time.
Why wait? Get your no-hassle free trial!
Why wait to start your journey to reliability excellence? With Relyence's reliability prediction software free trial, you can gain instant access to our high-powered MTBF software. Relyence Reliability Prediction makes your job easier and less time consuming, and provides streamlined, accurate, and efficient analyses. Get the prediction tool you've been looking for in a product designed around the way you work. Call 724.832.1900 today or schedule a time for a personalized demo!