FMEA (Failure Mode and Effects Analysis) is one of the most well-established analysis techniques employed in reliability and quality centric organizations. FMEA offers comprehensive risk assessment by providing an organized approach to evaluating potential system or process failure modes and their resulting effects. Due to its proven advantages, FMEA remains one of the most commonly used tools in reliability and quality engineering departments.
If you are launching a FMEA program in your organization or are looking for a better way to perform your failure mode and effects analyses, there are several options to consider when selecting the best approach for your implementation strategy. There are several standards and handbooks available for how to implement a FMEA program, such as MIL-STD-1629, SAE J1739, AIAG 4th edition, and AIAG & VDA. However, most of these publications provide guidance and an overall framework, but not a definitive approach that must be followed in an exact way. In almost all cases, FMEAs are tailored to fit the specific needs or desires of the organization or team.
So, how do you select the best tool to use for performing your FMEAs? In this article we'll review the various options, as well as the benefits and disadvantages of each approach. We will then review how Relyence FMEA can provide an effective solution for your analyses.
Software Tool Choices for Performing FMEA
When reviewing options for FMEA software tools, there are generally 3 choices:
Use a widely available off-the-shelf tool, such as Microsoft Excel.
Build your own custom tool using either an in-house or outsourced development team.
Use a commercial off-the-shelf (COTS) tool that is designed to support FMEAs.
Performing FMEA Using Excel
At first glance, the option of using a tool such as Excel, appears to be the most cost-effective choice. However, this is often not the case. While it is a low-cost option for the software itself, the price you will pay in terms of lack of organization and collaboration, inability to retain lessons learned, and inadequate data consistency and reusability is great.
If you are a single person doing one small analysis that you will rarely need to update, Excel may be the right choice. It is often the case that analysts start their first FMEAs using Excel. However, it is not long before they recognize the need for something more powerful and turn to a FMEA-specific tool. If you are truly invested in performing FMEA for product improvement or for compliance reasons, you will swiftly see the limitations of using the Excel approach. For details on all the reasons Excel is an ill-fitting approach for FMEAs, see our extensive list.

Creating a Custom FMEA Solution
The second option, building your own custom solution, will provide you with the best tailored FMEA tool. However, it is often not selected for various reasons. Some organizations start going down this road only to quickly discover how costly it is. The costs are not only high in terms of actual dollars, but also in terms of time and effort.
To begin, a design specification must be created. Then, the software development process must be managed, and the resulting product must be fully tested before deployment. And even once deployed, there will be required changes or bug fixes. This means that you will continue to incur costs even once the initial large investment is made.
Additionally, the cost of the hardware must also be considered. For example, you will need to invest in computer equipment, and potentially high-powered computers for good software performance. Depending on the architectural design of your custom software, you may also need multiple computers for each analyst or a single very powerful server. Whatever the situation, the hardware costs need to be factored into your cost analysis for building a custom solution.
Disadvantages of Custom FMEA Solutions
If you are committed to a fully custom software solution, be sure to investigate all the costs upfront, including hardware costs. Also, to ensure success, have a team in place to oversee its design, delivery, and implementation. Additionally, recognize that you will have to continually support and maintain your software tool in some manner throughout its lifetime.
Another important reason a completely custom FMEA solution is very rarely selected is because very capable COTS (commercial-off-the-shelf) FMEA solutions are available. These COTS FMEA solutions are well-established, broadly accepted, and provide an efficient platform for analyses.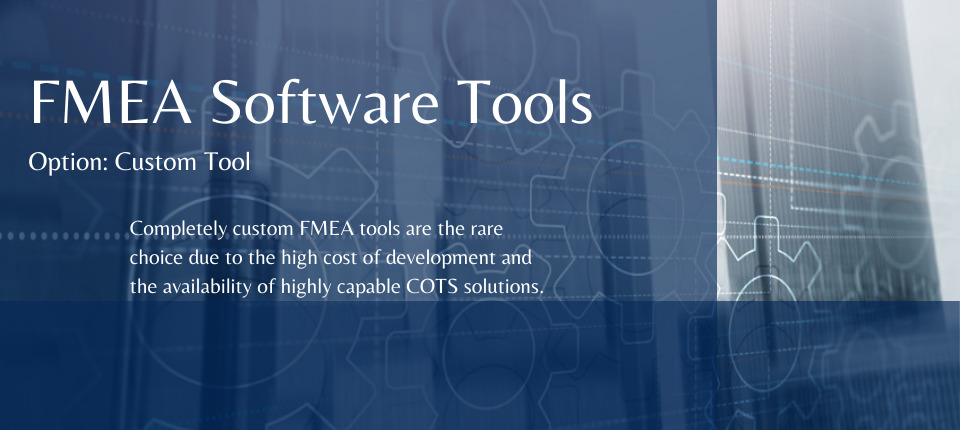 Using a COTS FMEA Tool
For performing FMEAs, most organizations turn to a commercially available tool designed specifically for failure mode and effects analysis. There is a long list of benefits to selecting a cloud-hosted FMEA solution, which is why many organizations prefer this approach for their reliability analysis toolset. One important reason is that the commercially available FMEA tools are often available in a cloud-hosted platform. Cloud hosted solutions provide many benefits and you do not have to purchase or manage any additional computer architecture for your FMEAs.
Oftentimes, these FMEA tools can be customized to varying degrees to align with your requirements. It is important to consider how the customization of the FMEA tool is supported. There are typically two avenues for customization:
Working with the vendor's implementation team to define and complete the necessary modifications.
Selecting a tool which allows you to perform your own customizations.
COTS FMEA Tools with Customization through Implementation Services
You may select a COTS FMEA tool that provides a platform for your analyses and enables you to engage with the vendor to customize it to your needs. This option is popular for obvious reasons. You get the advantage of a customized tool without paying for a fully custom solution.
Typically, the vendors in this case offer a FMEA package in conjunction with a cost for implementation services. Oftentimes, the cost for the implementation exceeds the cost of the tool itself. In addition to the high cost of implementation, you will incur continued costs if you want even small changes to your implementation. For example, something as simple as changing a column label on a FMEA Worksheet ends up incurring another implementation fee. It not only is costly, but also becomes frustrating.
Additionally, if you are moving from one FMEA platform (or even Excel) to a COTS solution, oftentimes the data migration is a for-fee service bundled into the implementation costs. Depending on the complexity or amount of data to migrate, this can also become a significant cost.
When engaging with an Implementation Services group for customizing your FMEA solution, it is vital to have a full accounting of all the customization requirements and data migration processes delineated in detail. This will ensure you obtain a solid quote for all the work that is required. Gathering all this necessary information upfront is difficult, therefore, modifications during the implementation process are common. This leads to unexpected costs, so it is helpful to consider this in your cost analysis.
COTS FMEA Tools with Built-in Customization
The final type of COTS FMEA tool you can choose is one that provides a solid FMEA platform and offers built-in customization features. This choice offers the ideal approach: a robust FMEA platform that you can tailor to your needs without any add-on costs. This option provides the most cost-effective, customizable FMEA solution.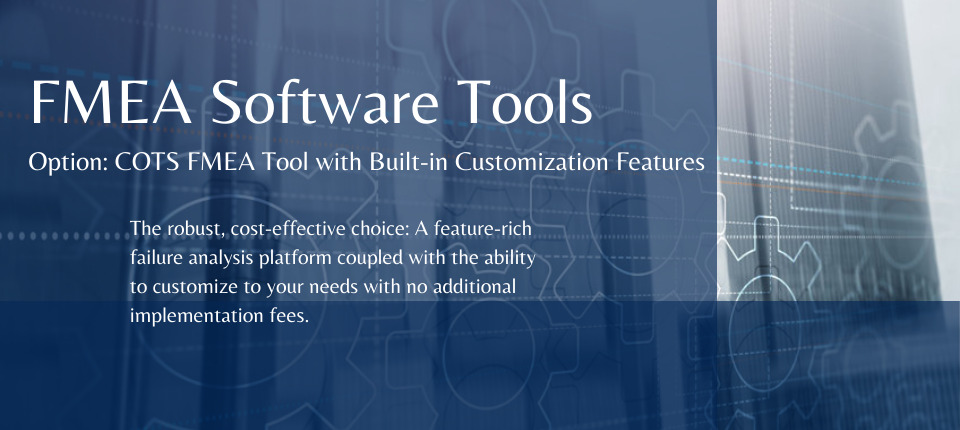 Relyence FMEA: A COTS FMEA Tool with Built-in Customization
Relyence FMEA software fits the profile of the best approach for FMEA implementation: a COTS FMEA tool with an array of features that allow you to customize your FMEA tool across the board. It offers a feature-rich platform supporting all types of FMEAs and provides built-in support for the most commonly used FMEA standards and techniques.
Relyence Built-in FMEA Templates
The Relyence FMEA platform comes supplied with a solid set of built-in templates. This means you can simply use Relyence FMEA out-of-the-box with no customizations required so you can get up and operating in no time. You can choose to use the Relyence built-in templates as-is, modify them as needed, or you can start completely new and build your own custom framework using the customization features available. Whatever route you choose, customization and modifications are quick and easy to make.
Relyence Cloud-Hosted Solution
Relyence FMEA is offered as either an on-premise installation or on a cloud-hosted platform. The on-premise solution enables you to install Relyence FMEA on your own computer systems. The Relyence FMEA cloud-hosted solution can be installed on your own private cloud or on the Relyence cloud-hosted platform. If you choose to use the Relyence FMEA cloud-hosted solution, you have instant access to a fully featured, compliant FMEA tool. There are no hardware costs, IT resource requirements, or software installations to consider. You simply log in and go!
Data Migration with Relyence Importing
If you are moving from another FMEA tool to Relyence FMEA, Relyence's importing capabilities allow you to smoothly migrate your existing data into Relyence. The Relyence Import Wizard provides step-by-step guidance to transfer your FMEA data from an outside source, such as Excel, into Relyence FMEA. Not only can you import your core FMEA Worksheet data into Relyence, but you can also import supplemental FMEA related data such as Process Flow Tables (PFT), Control Plans (CP), and Design Verification Plan and Reports (DVR&R) as well.
Relyence Customization Features
Relyence FMEA offers an array of features that enable you to customize all aspects of your FMEA process. This allows you to create a FMEA platform suited to your needs. Importantly, as your requirements change, you can update your platform when needed. So, you don't need to worry about getting everything right the first time and you can simply rest assured that you can change and modify your set up as desired at any time.
Relyence FMEA has a long list of capabilities that enable you to design a FMEA platform tailored to your needs. One of the most recognized aspects of Relyence software is its intuitive, well-crafted design. Because of this, even more advanced functions, such as customizing the user interface, are accomplished with ease.
Some of the most utilized Relyence FMEA customization options include:
Customizing your FMEA Worksheets
Customizing FMEA Risk Criteria
Customizing your FMEA Reports
Creating your own custom FMEA Dashboards
There are additional customization features, such as the ability to customize your FMEA process with Workflow, Notifications, and Approvals and defining your own Process Flow symbols for your Process Flow Diagrams (PFD). Explore our FMEA resources for a comprehensive look at all that is available with Relyence FMEA.

Customizing FMEA Worksheets
The core of any FMEA is the Worksheet. The FMEA Worksheet contains all your vital analysis information and is the central organizing databank for analysis, risk assessment, and recommended actions. Your FMEA team will spend much of their analysis time in the FMEA Worksheet.
In Relyence, several built-in Worksheets are available. You can use the Worksheets as-is or customize them to suit your needs. You can also create a completely new Worksheet from scratch if you would like. Most analysts select from one of the built-in Worksheets as a starting point, then edit it to meet their requirements.
Customizing your FMEA Worksheets is an easy process. Relyence FMEA uses the terms "Views" to designate different Worksheets. For example, you may want a different "View" or Worksheet than your other team members. Relyence allows you to create, customize, and change Views at any time. The Customize feature allows you to modify any portion of your FMEA Worksheet.
You can add and delete data fields, rename them, move them to where you want them to appear on your FMEA Worksheet, and set various other properties, such as Width, Precision, and can even add your own Tooltip. You can create any number of Views and change them any time you want. Also, you can keep Views private – meaning only you can see it – or share Views if you prefer.
Customizing Lists
Additionally, you can add custom lists for use in your FMEA Worksheet. Utilizing customizable choice lists helps to make data entry more efficient and consistent. For example, perhaps you want to add a selection list of choices for "Regulatory Item Number" or "Product Model Number" to your Worksheet. You can add in a list field and designate the list of choices available.
Special Data Fields
There are even unique data fields that Relyence allows on your FMEA Worksheets. A few special fields often utilized include:
The Hyperlink field enables you to add a link that can automatically open a browser tab with the designated URL.
The Image field offers the ability to upload images to your FMEA Worksheet. You can upload more than one image in the data field and scroll through them. As one example, this can be useful for Work Instructions. You could include an image to indicate the location of a component, or an image to show the proper reading on a gauge.
The Attachments field allows you to upload attachments to your FMEA Worksheet line items. Attachments can include any number of useful documents, including SOP (Standard Operating Procedures) or full Work Instruction sheets.
Customizing FMEA Risk Criteria
One of the most important elements of failure mode and effects analysis is risk assessment. There are several accepted techniques for risk assessment such as Risk Priority Number (RPN) and Action Priority (AP). For a deep drive into risk assessment methods in FMEA review our informative white paper. However, as with other FMEA elements, analysts often want to modify the standards-based risk methodologies to their requirements. With Relyence FMEA, this is a simple process.
Customizing RPN
Commonly, RPN values are computed based on a 10 level scale for Severity, Occurrence, and Detection. With Relyence, you can change all aspects of the RPN calculation. You can define the number of levels of Severity, Occurrence, and Detection. For example, if you wanted 5 levels instead of 10, you can change any or all criteria to 5 levels. You can also enter your own descriptions for each criteria level.
The RPN equation itself can be modified as well. Typically, RPN is equal to Severity * Detection * Occurrence, for a 1 – 1000 range. However, you can change the factors in the equation, as well as utilize an RPN Override feature to set your own RPN evaluation. Also, you can define two additional custom RPN values if you want to use multiple RPN assessment techniques. Lastly, you can define the value ranges and coloring of the RPN data fields that appear on your FMEA Worksheets.
Customizing AP
The release of the AIAG & VDA FMEA Handbook introduced a new way to assess risk using Action Priority (AP). AP also takes into account Severity, Occurrence, and Detection settings, but uses a different methodology based on High, Medium, and Low risk levels. AP puts emphasis on Severity first, then Occurrence, and then Detection, where RPN equally weights all three factors.
Like RPN customizations, you can customize all aspects of AP assessments. You can customize the number of levels -for example, if you want more than just the three High, Medium, and Low risk levels, you can add in more levels as desired. The color coding of each of the levels used on your FMEA Worksheets can be customized. You can also customize the rules used for AP level determination. By default, Relyence includes the rules established in the AIAG & VDA FMEA Handbook. However, you can change them as you prefer.
Using Formulas
Relyence FMEA also includes a powerful Formulas feature. Formulas are an advanced capability that allow you to create a custom equation. So, for example, if you want to use a completely unique risk assessment methodology based on a calculation you create, you can use the Formulas feature to do just that.
For example, if rather than using a 1-10 scale for Occurrence, you use an actual Probability of Occurrence value (a calculated metric that ranges from 0 – 1), you could create your own Formula for risk analysis:
My Risk Level = Severity * Probability of Occurrence
Customizing FMEA Reports
In addition to the ability to fully customize the front end of the FMEA user interface, Relyence FMEA also enables you to fully tailor FMEA reports.
First, you can customize the top section, or report header. You can add your own custom logo to your reports. You can also customize all the data in the FMEA report header. Simply select the "Customize report header" option and then select the fields you want to include.
Secondly, the entire body of your FMEA report can be customized. When you generate a report in Relyence FMEA, it directly creates a report using your current View. This is essentially a WYSIWYG (What You See Is What You Get) approach. In the same way Views are used to change the look of your FMEA user interface, the same View capability can be used to change the look of your FMEA report.
For example, perhaps you want your FMEA Worksheet to include all data fields, but you want two reports: one that shows just the FMEA data without the Recommended Action related fields, and one report that shows all fields. In this case, simply create a second View, "FMEA without Recommended Actions" which removes all the fields you don't want in your second report. Then simply generate a report using whichever View you want. Because you can create any number of Views, you can create as many output reports as you want.
FMEA Dashboards
Relyence FMEA Dashboards provide a high-level visual overview of your FMEA data and activities. Whether you are an analyst, team lead, manager, or quality engineer, Dashboards are a clear and concise way to track and manage your FMEA-related information. Dashboards are completely custom tailored, so any team member can see the metrics or activities most applicable to them.
FMEA Dashboards encapsulate the most pertinent information in a well-organized and compact graphical format not offered by FMEA Worksheets or reports. Because all the underlying FMEA data is available, Relyence FMEA Dashboards support a handy drill-down feature allowing you to see the detailed data with a click of a mouse.
The flexibility of the Relyence FMEA Dashboard offers you complete control over the presentation of your information.  FMEA Dashboards are designed using a set of widgets which are placed on your Dashboard with the easy-to-use Relyence Dashboard Designer. Then each widget can be custom tailored to your requirements. Each team member can have their own Dashboard or multiple Dashboards. Or, you can establish Dashboards based on team or group needs, or any way you choose.
Relyence FMEA Dashboards are a powerful way to gain insight into your FMEA activities, keep an eye on task assignments, track due dates, and manage your overall process from a single place. Once established, they quickly become one of the most essential elements of your failure analysis process.
Controlling Customization Options
It is important to note that the FMEA customization options described are built into Relyence FMEA by default; you do not pay anything extra for these useful features. Nevertheless, we do recognize that some organizations may want to control who can perform these customizations. For example, you may want your FMEA Worksheets standardized across your organization. In this case, only your designated team leader should be able to create and modify the Worksheet requirements for all team members to use.
With Relyence, you can put these restrictions in place using group permissions. With permissions, you can designate which team members are allowed to make customizations as well as designate those who cannot. In this way, you can establish team members who function as "administrators" for your FMEA customizations.
The usage of permission-based features is entirely optional in Relyence. If desired, you can allow all team members the ability to customize any aspect of Relyence FMEA.
Conclusion
Relyence FMEA provides the most cost-effective, customizable FMEA platform on the market. Its customization capabilities, as well as all the additional features available, make it the most comprehensive, best-in-class solution for your FMEAs. We also offer full Implementation Services if you prefer to work with our team to customize your FMEA platform. Our Training Services and online video library are available to help you get the most out of your FMEA investment.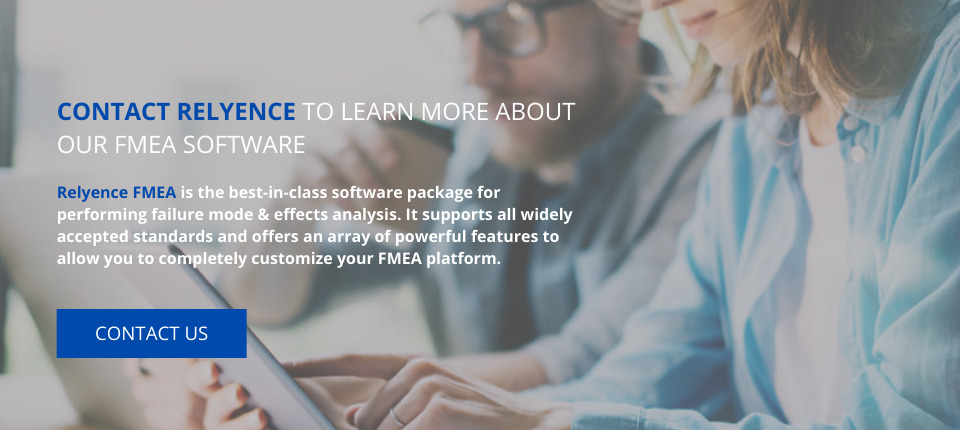 Check out Relyence FMEA out today. Sign up for a completely free no-hassle trial, schedule a personal demo at your convenience, or contact us to speak to one of our knowledgeable representatives.