Failure Mode and Effects Analysis, or FMEA, is a well-organized, step-by-step approach to identifying potential failures of a product or process and developing a plan to effectively address those potential failures that represent the highest risk. Since initially being developed by the U.S. Department of Defense in the 1940s, FMEA has been adopted across a broad range of industries as a valuable tool toward establishing and improving an organization's quality objectives. Now, FMEA is widely-known as one of the most commonly used techniques in reliability engineering.
FMEA is a flexible risk analysis technique and can be tailored in its usage and specifications to a wide range of industries. In some, such as medical and aerospace, FMEAs are often a required part of the design and manufacturing process. In other sectors, while not required, FMEAs are widely accepted and considered essential. In particular, the automotive industry has proven to be a leading driver in the development of FMEA protocols and procedures.
In this article we will focus on recent advancements to the FMEA technique that have been largely driven by the automotive industry. In particular, we discuss how FMEA data can be captured and leveraged for future designs by a method known as Foundation FMEA. If you are new to FMEA, see our New to FMEA introductory overview article. In addition, you can watch a video or read our blog post to see an example of the step-by-step FMEA process.
What are Foundation FMEAs?
In recent years, the power that FMEA can provide as a base of knowledge in product design and manufacturing has been recognized. When performed effectively, the data available from the FMEA Worksheet can be invaluable during all product stages – from creating a next-generation design through to in-field implementation. This has led to an increased emphasis on what are called Foundation FMEAs, also known as shell, core, template, or master FMEAs.
Foundation FMEAs are a database to store FMEA information from past analyses. This ensures that lessons learned are retained and carried through to all your ongoing projects. If performed properly, they provide access to your historical data in an easily accessible place so it can be efficiently referenced and retrieved. Depending on the organization's usage, Foundation FMEAs can be employed as a place to store universal FMEA data that applies to all products – these FMEAs can also be known as baseline, generic, or best-practices FMEAs. Or, they can be tailored to more specialized data – for example, Foundation FMEAs could be created that apply to certain product lines, processes, manufacturing locations, etc. When this more specialized approach is chosen, the resulting failure information database can also be referred to as a family FMEA.
What are the Advantages of Foundation FMEAs?
Foundation FMEAs provide several important benefits towards ensuring your FMEA process is as efficient and effective as possible.
Capture Lessons Learned
A key benefit to the usage of Foundation FMEAs is that they provide a place to store historical data from past designs. The ability to leverage data from previous analyses ensures that lessons learned are captured and carried through to next generation products. This approach sets up your organization for success in the pursuit of continual improvement.
Reuse Stored Knowledge
When new products and processes are being developed, they often begin with pieces from previous designs. This could mean entire subassemblies being reused – for example, the electronic starter assembly in an automobile could be shared between previous and new designs.  Or it could mean that certain risk-related data or process step information is shared – an example of this case could be a shared potential failure mode and associated risk data of the steering assembly when an EV prototype is created based on a gasoline-powered model.
Whether the new design includes identical components to previous products or pieces of shared FMEA information, the data from previous projects is often helpful baseline data also applicable in the new designs. In both of these situations, you can see how a Foundation FMEA can be helpful as a master FMEA database that allows for easy data reuse.
Enhance Worksheet Consistency
By providing a shared database of information related to your products and processes, Foundation FMEAs allow the ability to reference stored data across your analyses. This ensures consistency and accuracy in your analyses as information can be dispersed to all appropriate FMEAs from one common source. As an example, let's assume that a certain potential Failure Mode exists in multiple products within your organization. By first utilizing a Foundation FMEA to store this particular Failure Mode and all associated risk data, you can then include this information in all appropriate analyses and be sure it is accurate and complete. Plus, if something about the Failure Mode and its associated risk data changes, you can change it once in the Foundation FMEA and update all FMEAs accordingly.
Reduce Analysis Costs
Once built, Foundation FMEAs can significantly cut down on the time it takes to complete your failure mode and effects analyses. They offer a launching point for new analyses and allow elements of your FMEA to be brought in from a database of stored information. From this starting point, differences between the new and existing analyses can be distinguished and you can then focus your analysis on the elements that are new. By decreasing the amount of time that is required to build a base for your FMEA Worksheet, Foundation FMEAs can reduce the time and money required to support your FMEA efforts.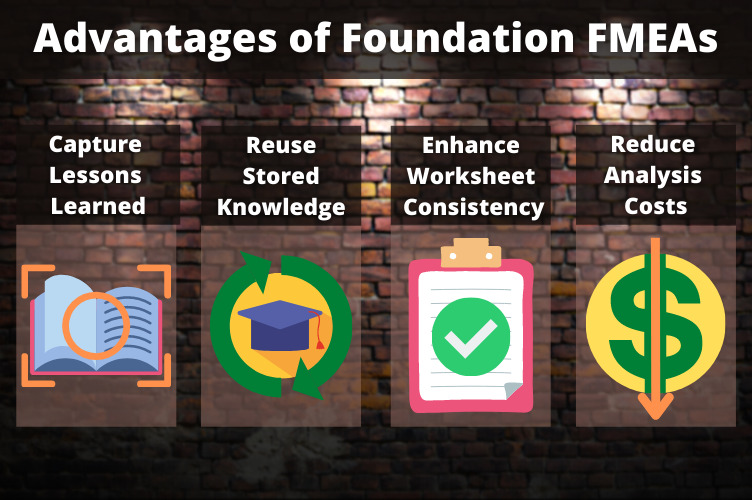 Why Should I Use Foundation FMEAs?
Similar to FMEA methodology in general, the usage of Foundation FMEAs may be mandated depending on your industry. However, any FMEA practitioner can benefit from building Foundation FMEAs. By providing a place to store historical data for easy reuse, Foundation FMEAs provide a solid base from which to begin during new product or process design. They ensure that all appropriate FMEA risk data is captured and that your FMEAs are not only effective, but also easy to build and maintain, given the efficiency allotted by the use of Foundation FMEAs.
Foundation FMEAs can be useful across a broad range of industries. By ensuring analysis accuracy and efficiency, Foundation FMEAs build on the success of the proven and broadly adopted FMEA technique as an invaluable tool for risk assessment and mitigation. The data that is captured in a Foundation FMEA can be leveraged forward in future designs to ensure that the next generation of products is always improving.
One common example of an industry where Foundation FMEAs are important is in the automotive sector. The goal of automotive manufacturers is to continually improve each new model in a variety of ways – from safety, to fuel efficiency, to the addition of new features. By relying on the database of lessons learned from a Foundation FMEA, these companies are able to build on past success and continually improve year after year.
While Foundation FMEAs quickly gained popularity in the automotive sector, they can be useful across a broad spectrum of organizations. From consumer electronics, to medical devices, to software packages, building on past success to create higher quality products and processes is something common to many industries. That is to say – wherever there is a need to continually improve, Foundation FMEAs can be leveraged as a useful technique towards this goal.
How Do I Get Started Using Foundation FMEAs?
There are various approaches that can be used to begin the process of creating Foundation FMEAs.
They can be started as a general base of knowledge before the formal FMEA on a particular product or process.
Or, they can be built up piece-by-piece alongside the FMEA for the system or process currently under analysis.
Or, they can be created from a finalized FMEA from a completed design or process FMEA.
Once an initial knowledge base has been created, Foundation FMEAs are at their most effective if they are treated as a living document rather than a static database of FMEA information. As design and manufacturing processes are further refined and as additional failure data is uncovered, the Foundation FMEA should be updated with the new information. Adopting this approach ensures both that the analysis process increases in its efficiency and that new products and processes improve in quality with each iteration.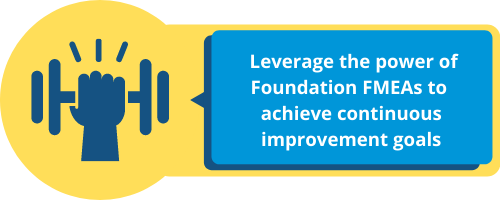 How to Use Foundation FMEAs in Relyence FMEA
In Relyence FMEA, Foundation FMEAs are supported by utilizing our innovative Knowledge BanksTM. In essence, Relyence Knowledge Banks are a compilation of Foundation FMEAs.
In this section, we will step through an example use-case of the creation and reuse capabilities that Knowledge Banks offer. For this example, case, let's assume we have a completed FMEA for a quadcopter drone product. Now, we are developing our next generation product – an octocopter drone – and want to utilize the Foundation FMEA technique to build on the success of our past design.
Step 1: Create a Foundation FMEA with the Relyence Knowledge Bank
Since this is our first time using a Foundation FMEA, we begin by adding the appropriate FMEA information from our completed quadcopter drone FMEA to the Knowledge Bank. In this case, that means adding two pieces of FMEA data.
In our octocopter drone, we are planning to reuse the GPS from our quadcopter drone. So, from our quadcopter drone FMEA, we begin by adding the GPS subsystem to the Knowledge Bank. To accomplish this, from the Properties pane of the GPS, click Bank > Add to Knowledge Bank from the top toolbar in Relyence FMEA.
Optionally, you can then click Bank > Go to Knowledge Bank to view the GPS subsystem and associated FMEA data in your Knowledge Bank. (Note: You can also access the Knowledge Bank by clicking Knowledge Bank in the sidebar of Relyence FMEA.) This will serve as the master copy of your GPS subsystem with all associated FMEA data included.
Additionally, on the FMEA Worksheet for the top-level Quadcopter Drone item, we have a Function "Provides convenient flying, aerial surveillance and video recording functionality and experience". This Function and its associated Failure Mode, Effect, Cause, and Recommended Action information will also apply to our new octocopter drone design. So, we add that Function to our Knowledge Bank as well. To accomplish this, select the appropriate Function in the FMEA Worksheet, and click Bank > Add to Knowledge Bank from the toolbar.
Similar to the GPS subsystem, you can then optionally navigate to the Knowledge Bank to see the newly added Function and its associated FMEA data.
For the purposes of this example introduction to Foundation FMEAs, we will assume these two pieces of FMEA data constitute our Foundation FMEA. However, in a real-world use-case, additional FMEA data can and should be added to the Knowledge Bank in a similar way.
Step 2: Use the Foundation FMEA Data for a New Design
Now that we have our Foundation FMEA created and populated with the appropriate FMEA information we need for our new design, we can begin the FMEA for our octocopter drone, taking advantage of Foundation FMEA data.
From our empty Octocopter Drone FMEA, we will begin by adding the GPS subsystem to our new Analysis from the Knowledge Bank. In the Octocopter Drone Analysis, click Edit > Edit Tree above the Analysis Tree hierarchy. Then, click the Search button in the toolbar, type "GPS" into the Search field and click Search. (Note: You can pick either to insert as a Sibling or Child subsystem depending on where the GPS subsystem fits). Select the checkbox next to the GPS subsystem and click Insert.
Next, we will add the "Provides convenient flying, aerial surveillance and video recording functionality and experience" Function to the top-level Octocopter Drone subsystem. To do so, simply click in the Function column of the FMEA Worksheet, then click the Search button in the toolbar. We then use the Search Functions dialog to find the appropriate Function within our Knowledge Bank. We check the checkbox next to our matching Function, then click the Insert button to add the appropriate Function and its associated FMEA data to our Worksheet.
With the help of Knowledge Banks, which store our Foundation FMEA data, we have now efficiently initiated our FMEA for the octocopter drone. We can be confident that we have begun with accurate information since it is based on a past known design. Now, we can continue to add additional FMEA details specific to the octocopter in the Analysis as needed. In this way, we have leveraged the power of Foundation FMEAs through the use of Knowledge Banks towards the goal of an efficient and accurate design process.
Bonus! Data Synchronization with Knowledge Banks
One of the most notable advantages of Foundation FMEAs is reusability. When using Relyence FMEA's Knowledge Banks to support Foundation FMEAs, you get the added bonus of data synchronization.
As new failure information is uncovered or the design or manufacturing processes are changed, the Foundation FMEAs should be updated to reflect this most recent data. Also, all FMEAs using the all FMEAs using baseline data from the Foundation FMEA should be updated with this information as well.
Relyence FMEA Knowledge Banks offer a data Push feature to allow you keep your FMEAs in sync. When you use Relyence FMEA Knowledge Banks as your repository for your Foundation FMEAs, this important capability is available to you for the most efficient management of your FMEA data.
Octocopter Drone Data Synchronization Example
Consider the octocopter drone once again – in particular the GPS subsystem. Recall that the GPS subsystem and it's FMEA data was found in and remains linked to the Knowledge Bank. In this case, let's assume that during the prototyping stage, we uncover a new Failure Mode of "Inaccurate position reported" with associated Cause "Multi-path error". Now we have to make the decision whether or not to include the new Failure Mode in the master copy of the GPS subsystem within the Knowledge Bank or only within the octocopter drone FMEA. In this case, we decide the new failure information applies to all projects containing the GPS subsystem, so we add the new Failure Mode to master copy of the GPS subsystem in the Knowledge Bank.
Now we can use the Relyence Knowledge Bank Push capability to synchronize the new failure information with all appropriate FMEAs where the GPS subsystem is used. For example, recall that the GPS subsystem and its FMEA data was originally added to the Knowledge Bank from the quadcopter drone Analysis. Clicking Push in the toolbar of the Knowledge Bank brings up a list of all the Relyence Analyses that may be impacted by the newly identified failure information. In this case, this will include both the quadcopter drone and octocopter drone projects. From there, you can choose to update all affected Analyses with the new data or you can pick and choose from the list – for example, there may be some completed FMEAs that you do not wish to modify.
Updating the Knowledge Bank and your Analyses as you proceed through the FMEA process allows your ongoing projects to be kept in sync with the latest information. You can also be sure that future designs use the most accurate data. When used in this way, Knowledge Banks allow you to continually build on your past successes, thus ensuring that you take full advantage of the data captured in your Foundation FMEAs.
Conclusion
Relyence FMEA was designed to ensure the FMEA process is as easy and effective as possible. The unique and innovative Relyence Knowledge Bank is a key part of achieving that objective. Importantly, the Relyence FMEA Knowledge Bank features enables you to support the use of Foundation FMEAs. If Foundation FMEAs are required for your organization, using Relyence FMEA and Knowledge Banks can meet your compliance requirements. Or, if you are like many organizations and recognize the vast benefits of incorporating Foundation FMEAs as part of your FMEA process, Relyence FMEA easily supports your efforts. As we have seen, using Knowledge Banks as your source for Foundation FMEAs ensures that lessons learned from past analyses are captured and preserved for ongoing and future analyses.
Relyence FMEA is a powerful platform that fully supports your failure mode and effects analysis tasks. It includes a broad array of features and functions that make it the best-in-class FMEA solution. To explore more, check out our FMEA product information as well as our informative FMEA articles.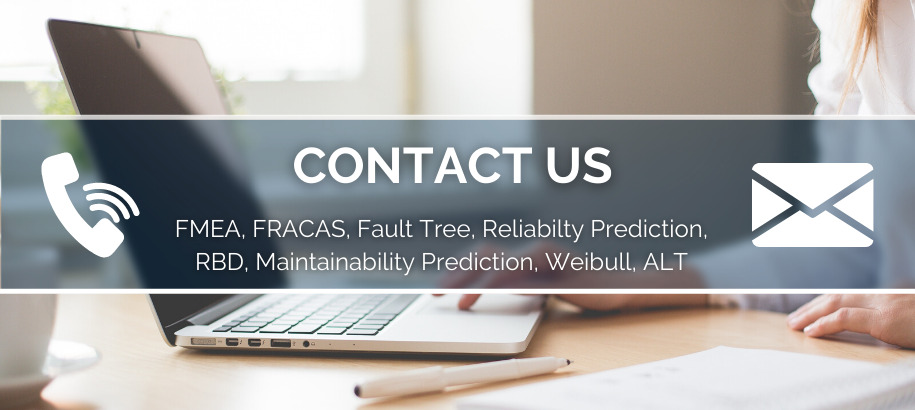 Check us out today to see why Relyence FMEA has become the go-to platform for Failure Mode and Effects Analyses! If you are interested in learning more about Relyence FMEA sign up today for your own no-hassle free trial. Or, feel free to contact us to discuss your needs or schedule a personal demo.